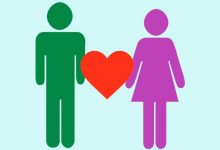 Romance Jokes : He No Longer Loves Me
Married Woman: A certain pretty married woman complained to her friend, 'my husband no longer loves me .
Friend: How will he love you, can't you see how fat you have become. You have blown out of shape than the time he married you, you  were well shaped, pretty and enticing.
Married Woman: Then why did he bought all those ice cream, delicious products that will make me fat. He is the cause of my being fat but I am okay..
The Handsome Thief
Lady: A young lady approached a very handsome tall black man and saying will you allow  me date you?
Handsome Thief: Of course, only if you could bear my character
Lady: What character?
Handsome Thief: I have long fingers and always have my way with things in the shopping mall and banks.
Lady: Yes, I like that, that is good please. Where is your house?
Handsome Thief: My house is your house, where you sleep is where I sleep, what I eat you eat also
Lady: That is no problem provided you are mine and will always service only but me.
The relationship went on because the lady was full of love and could not understand what it meant to date a crown shameless thief.
Handsome Thief: Well, you join me in my business?
Lady: Yes, provided you are together with me. They both started the stealing business while enjoying their new found relationship till they were caught.
Please be informed that we cover birthday and marriage ceremonies. You can do well to contact soulmate on 08082649997 for your coverage.
Friends:
Mine: 33 (F) pretty and positive in life, residing in Bonny Island wants male for a positive mature friends. Interested males should call  08034061553
Simeon: 35 (M) is a deck hand a sailor, residing in Port Harcourt wants friends. Interested female and male should contact him on 07063607268.
Marriage
Beatrice: 28 (F) a single mother, pretty and well endowed, residing in Port Harcourt needs a positively minded caring man for a husband. Call 08039454802
Unique: 32 (F) pretty fair, average height, educated, an Akwa Ibomite residing in Port Harcourt needs a real man for a husband. Interested men should call  08104832192
Emma: 30 (M) a working class handsome, average man, residing in Port Harcourt, needs a beautiful lady for a wife. Interested call: 08036778277.