Mrs. Jonathan's Harassment: Protesters Shut Down Port Harcourt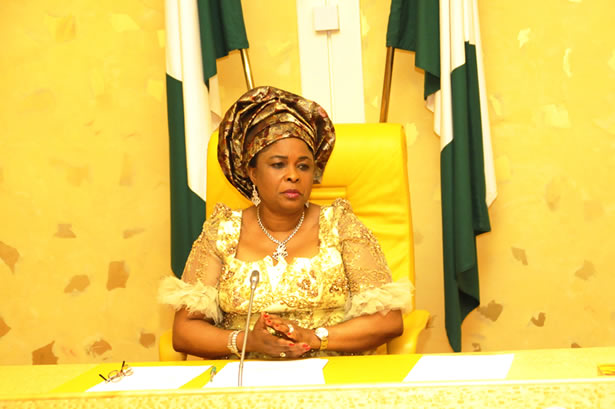 Hundred of youths under the auspices of the Coalition of Civil Rights Organizations, Concerned Youths and The Ijaw Nation Worldwide at the weekend staged a peaceful protest in Port Harcourt what they call "constant and sustained Harassment of the former first family of Dr. Goodluck Ebele Jonathan. The protest paralyzed business and commercial activities and also caused heavy traffic jam on the ever busy Aba-Port Harcourt  Express Road.
The protesters numbering over five hundred (500) youths were carrying placards with different inscriptions such as "Police leave Mrs. Jonathan alone," God save Niger Delta sons and daughters from witch hunting, "injury to one is injury to all, say Ijaw Nation, former President Goodluck Jonathan is respected worldwide, why the humiliation in Nigeria," amongst several others.
The protest was led by Amb. Sukubo Sara-Igbe, the president General of the group. The protesters matched to the headquarters of the Rivers State Police Command, Moscow Road and the zonal office of the Economic and Financial Crimes Commission, EFCC, Forces Avenue Old GRA, Port Harcourt.
Speaking Amb. Sukubo Sara-Igbe Sukubo who is also the chairman of the Rivers State chapter of National Youths Council of Nigeria, NYCN frowned at the manner and the way in which the security agencies namely EFCC, DSS and police are constantly harassing and intimidating the former President Goodluck Ebele Jonathan and his family.
Amb. Sukubo recalled that last December the premises of the former first family were forcefully broken into by a combined team of the police allegedly acted on the orders of the Inspector General of Police, IGP and the Attorney General of Federal Republic of Nigeria.
The protesters described the action of the security agencies to the former first family as an attempt to desecrate the person of Dr. Goodluck Ebele Jonathan by treating him and his household as common criminals.
According to Amb. Sukubo, "There are first families before Jonathan's family. This did not happen to them. Even when a whole supplementary budget was stolen under Yar'Adua and his cabinet, there was no investigation instead we have recently honoured that family by approving a private university for them."
Amb Sukubo further said that, "Halliburton is still fresh in our minds and the privatization and buying up of Transcorp is also in our memory.
The attempt to ridicule and trial by media in the name of fighting corruption and using it to demolish hard earned credentials would not be condoned.
Amb. Sukubo stated that Nigeria is nobody's personal estate, and that Dr. Goodluck Jonathan, his wife and family deserve respect.
The protesters, therefore warned that these actions if not stopped may elicit reactions that may not in anyway guarantee anybody's interest.
In their separate speeches while receiving the protesters the Rivers State Commissioner of Police represented by DCP Ahmad Magaji and EFCC official thanked the protesters for their peaceful disposition and promised to take their demands to the appropriate quarters.