RSHA Members, Constituents On War Path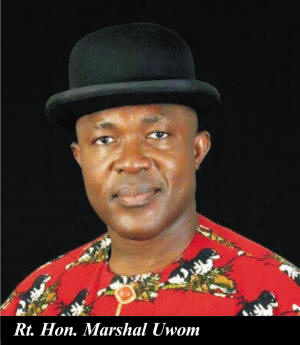 A lawmaker representing Abua/Odual Constituency in Rivers State House of Assembly, RSHA, Rt. Hon. Marshal Stanley Uwom and his counterpart in Asari-Toru Constituency II, Hon. Enemi George are now facing fresh hurdles.
The constituents have rejected the constituency projects sited by these state parliamentarians in their respective constituencies.
The rejection of the projects had been giving so much headache to the two state legislators as the constituents say no to the projects.
Elder John Ibura, a member of the People's Democratic Party, PDP in Abua/Odual LGA described the constituency project (mini stadium) embarked on by the Deputy Speaker as nothing especially at this time of economic hardship.
According to Elder Ibura the construction of a mini stadium at the County School, Ayama Abua will not be positively impacted on the lives of the people. He observed that the mini stadium is a unworthy project that has no economic value.
"We need project(s) that will turn around the fortunes of the people than project(s) that will increase the pocket of a lawmaker", Elder Ibura said.
He said that Rt. Hon Uwom cannot give them a mini stadium after two (2) years in office as a Deputy Speaker. "This is nonsense", Elder Ibura tweeted.
Meanwhile the people of Ayama Abua have called on Hon. Uwom to relocate the constituency project (mini-stadium), to another community, adding that they do not want such project, and it has nothing to offer.
"Na mini stadium we go chop?, Comrade Ibiso Asi, a youth leader asked rheritorically, alleging that Uwom's tenure in the Rivers House of Assembly is not eventful, expressing optimism that Rt. Hon. Uwom will be replaced in 2019 with a vibrant politician that has the mind of developing the grassroots at heart.
In a related development a prominent youth leader in Asari-Toru Constituency II who identifies himself as Comrade Glory LongJohn has came hard on Hon. George, that his constituency project (renovation of a community school Ido) will not create any empowerment in their lives.
Comrade LongJohn accused Hon. Enemi George of short sightedness in handling project adding no member of the constituency is feeling his impact as a lawmaker representing them in RSHA.
The youth activist vowed that no amount of money will compel them to cast their votes for Hon. George in 2019 for what he called, ziz-zag performance" that has nothing to do with the welfare of the constituents.
"Severally, we have told him, he should forget 2019, so that we can field a better candidate that will perform well, and give us quality representation", Comrade LongJohn concluded.  ###