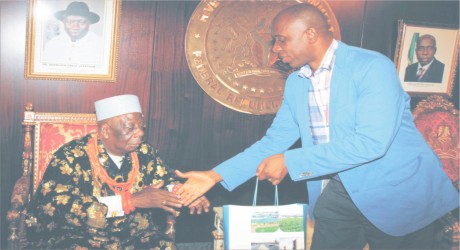 The people of Ogoni ethnic nationality in Rivers State have reacted angrily to a purported publication in one of the national newspapers criticizing the recent visit of the Ogoni delegation to Gov. Chibuike Amaechi, expressing their solidarity to his government.
In a press statement issued by Mr. Parry Saroh Benson, the Chief Press Secretary to the chairman of Rivers State Traditional Rulers Council, King Godwin Giniwah on the matter, he condemned in its entirety the said publication, which he said was meant to breed bad blood amongst the Ogonis and discredit the well-intentioned visit.
The statement accused the authors of the purported document of trying to stagnate the progress of the Ogoni people, with a view to keeping them in perpetual "womb of crisis, which he said the people have outgrown.
The statement also alleged that the publication is part of the latest campaign of calumny against Hon. Magnus Abe senator representing, Rivers South-East at the National Assembly and Rt. Hon. Amaechi to derail their focus insisting that there is nothing wrong with Ogoni people visiting their governor.
King Gininwa made it clear that the choice of strategy of those behind the publication, "is flawed and exposes their lack of strategic thinking and understanding of the dynamics of politics and developments in Rivers State and Nigeria. In their unbridled quest for filthy lucre, they failed to appreciate the current realities of our time. Much more in sympathy than in anger and so we say sorry to them".
The statement urged the governor and Abe not to be deterred by "the antics of the rascals, but to remain focused so long as the strategies will benefit the people of Rivers State, and indeed Nigerians".
The statement said it wonders if Senator Abe and King Gininwa cannot speak for the Ogonis in this dispensation who else. It warned and advised such "faceless group" to understand that the peace, progress, unity and development of Ogoni is greater than any personal interest, as "the destiny our present and future generation would not be sacrificed on the altar of egotism". ###