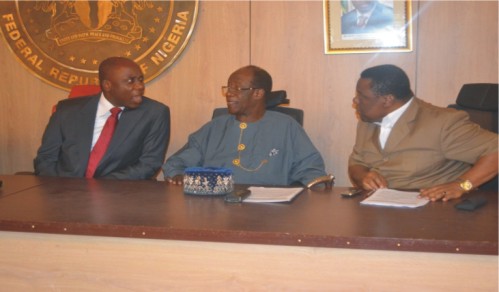 The former deputy  Governor of Rivers state and Arusibidabo of Opobo kingdom, Sir G.T.G Toby has decried the lack of credibility in the country's electoral process. "If there could be no credibility even at the level of the Nigerian Governors Forum election, then the country is doomed and the future is bleak for the youths", he said.
Sir Toby who made the remark in a solidarity speech he gave when the people of Opobo/Nkoro Local Government Area paid a solidarity visit to the Governor in Government House Port Harcourt, said that some persons have chosen to be blind to the good works of Governor Amaechi in Rivers State but noted that there are basic monuments which the Governor has put in place that will outlive him.
The former deputy Governor said that Governor Amaechi remains the Governor of the state no matter what anyone does. Also Speaking, the Chairman of Greater Port Harcourt Development Authority, Dame Aleruchi Cookey-Gam, said that leadership is defined by results and the people of Opobo/Nkoro have seen the results of Governor Amaechi's administration even in the face of  turbulence.  In his speech, Pastor Robert Idatoru said that for about 400 years of the existence of Nkoro Clan, it has been cut off from other parts of the state till Gov. Amaechi decided to link it up with other communities through the unity road project.
Pastor Idatoru said that Governor Amaechi has created  scholarship programmes that are beneficial to the children of the less privileged in the society. In his vote of thanks, Hon. Dakuku Peterside the member representing  Andoni/Opobo/Nkoro Federal Constituency in the House of Representative and Chairman House Committee and Petroleum (Downstream),  said that the people of Opobo/Nkoro are in the Government House to pay solidarity visit to Governor Amaechi because of their believe in him and the course he is championing.   Hon. Peterside reaffirmed the position of the people to stand by the Governor and to move along with him in all circumstances and situations and said that they will resist any form of colonization targeted at   the state. Dignitaries present include the chairman of the council, Warsenibo Maclean Bethel Uranta, Deacon Clapton Ogolo, Engr. Kingsley Idatonye Accra-Jaja, Senibo G.O.C Minimah, Barrister W.S. Pepple, Hon. Emmanuel Taribo, among others.