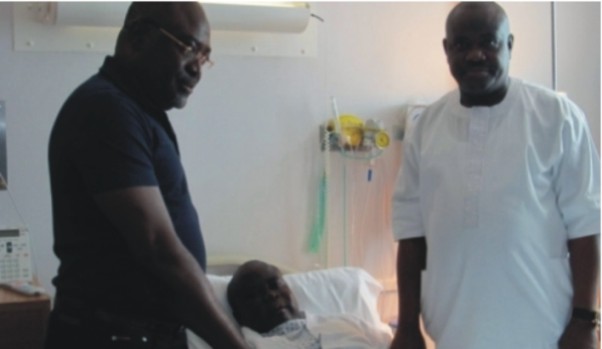 Prominent leaders of Rivers State from across political and professional divides  have  visited the member representing Obio/Akpor  Constituency 2 at the Bupa Comwell Hospital in London, United Kingdom, where the legislator is recuperating from head and jaw surgeries carried out on him by medical experts in the health facility.
Those that  visited the injured lawmaker include; Minister of State for Education, Barr.  Nyesom Wike, former deputy speaker of the House of Representatives, Rt. Hon. Austin Opara, President of Nigeria Bar Association, NBA, Chief Okey Wali (SAN), Former Action Congress of Nigeria, ACN, National Treasurer, Mr Kenneth Kobani, Former Transport Minister, Dr Abiye Sekibo, Rivers State Peoples Democratic Party, PDP, Chairman, Bro. Felix Obuah and a former Sports               Commissioner in Rivers State, Mr. Boma Iyaye.
The leaders  said they were grateful to God for the survival of Hon. Michael Chinda despite the vicious knocks he received from the mace-wielding Leader of the Rivers State House of Assembly, Mr. Chidi Lloyd. They condemned the brutal physical assault suffered by Hon. Chinda, praying that such violence must not be witnessed again in the state.
It will be recalled that Hon. Micheal Chinda received life-threatening injuries on his head and jaw after the Rivers State House of Assembly  Leader, Hon. Chidi Lloyd  viciously attacked him with the House Mace during the recent fracas that rocked the Assembly.
Speaking after the visit, Minister of State for Education, Barr. Nyesom Wike called on the constituents of the lawmaker to remain calm; pointing out that justice will be done in the matter.
He said: "It is very unfortunate that such injury could be inflicted on a fellow human being. I remember that the man who carried out this barbaric act claimed that some people don't have integrity. We can now see the kind of integrity he has. We are happy that the Honourable Member is alive. I want to call on his constituents and I am one of them, to remain calm. I know how Hon. Chinda is dear to them, but at the end of the day, justice will be done."
Rt. Hon. Austin Opara, a former deputy speaker of the House of Representatives expressed happiness that the lawmaker has been stabilized health wise, but said that it was unfortunate that the Rivers State Governor is yet to see anything wrong with the injuries inflicted on the lawmaker.
Former Minister of Transport, Dr Abiye Sekibo while condemning the brutal injury inflicted on Hon. Chinda, said all well meaning Nigerians must rise to condemn such pre-meditated act of violence in the interest of the nation's political growth.
He said: "All of us must condemn what happened. It doesn't matter on which side of the political divide that we find ourselves. Governors who see this kind of barbarism and fail to condemn it, but choose to turn it to political drama will not be forgiven by history".
Rivers State PDP Chairman, Bro. Felix Obuah regretted that despite the devastating attack on a State lawmaker by the State House Majority Leader, Governor Rotimi Chibuike Amaechi is yet to ask after the welfare of the lawmaker, choosing instead to host series of solidarity visits from governors at the expense of the depleting resources of Rivers State.
Former ACN National Treasurer, Mr. Kenneth Kobani said that whoever supports the acts of pre-meditated violence perpetrated against the Rivers State lawmaker needs his conscience examined.
"Our common duty is to ensure that we do not support this kind of evil. It is shocking that even as we speak, those who carried out this evil act are still going about justifying the evil. That tells you the deplorable state that our state has fallen to" Kobani lamented.