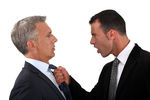 Politics, according to the new 8th edition of the Oxford Advanced Learner's Dictionary, "the activities involved in getting and using power in public life, and being able to influence decisions that affect a country or a society".
Going by this definition, politics is anchored on three basic ingredients namely: power, influence and decision making.
No wonder politics is everywhere even in the kitchen and also in the church. Pastor Williams Akinbamijo in his book entitled, "Church Politics: The Way Out", said, "It is appalling that in the church, we often hear of bad and dirty politicking. This is where someone out of selfish interest pervert justice, interprets a law or policies to suit his interest or established a system that serves his own goal.
"Most unfortunate is the fact that highly esteemed church leaders, who are thought to be infallible, are often accused of playing dirty church politics. So ugly is the situation that none of these senior ministers ever admits playing politics. Most of them, when confronted would say they were being directed and led by the Spirit of God. Then, who are you to query the Holy Ghost?
Politics is a game, therefore has rules. For politics to be played well, its practitioners must comply with the rules and regulations.
Spirit of sportsmanship is highly needed in the game of politics. Unfortunately, many Nigerian politicians see politics as warfare. In politics power flows through the ballot box(es) and not through the barrels of gun. Violence and thuggery would soon fade away in politics like the morning star.
It beats one's imagination how a politician will be threatening fire and brimstones if he or she loses election in 2015. Sometime ago, General Mohammadu Buhari predicted bloodshed in the 2015 election. Unequivocally, General Buhari has been giving Nigerians tough times in politics. He does not behave like a statesman that believes in the unification of Nigeria.
Our politicians are instrumental to some of the challenge; we are facing in the country. The issues of increasing security challenges, economic strangulation, environmental degradation, diversion of public funds and money laundry.
Politics is not a do or die affair. Politics is a game of interest and conspiracy. Politics is not a brotherhood, hence politicians whose interest is to develop their constituencies should play the game according to its rules and regulations and not issue unnecessary threats to heat up the body polity.  ##
Damiete West
08037502931