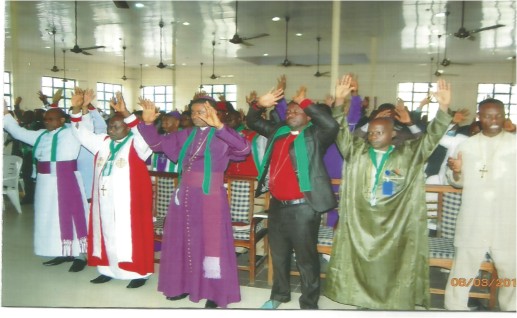 A one day prayer for the nation and orientation of ministers of God organized by the Master Seed Ministers Network Worldwide has ended in Port Harcourt with a call on Nigerian leaders to bring about positive change in the nation.
Speaking on behalf of members of the Master Seed Ministers Network Worldwide at the prayer ceremony at Eio road GRA Phase I Port Harcourt. Bishop Chris Nwogu, the director of mission and Arch Bishop Eddy Ogbondah, the Grand Patron of the organization said the aim of the ceremony was to pray for the nation on the calamity that rocking the country especially the abduction of the Chibok schools girls and the killing of the innocent citizens of Nigeria in the North by the dreaded Boko Haram sect on the daily basis as well as the orientation of the ministers of God.
The clergymen who noted that God has positioned Nigerians leaders to bring about positive changes in the country urged them to justify the confidence reposed on them and hold on to God until the battle is over expressing optimism that the Boko Haram sect will be defeated soon.
The clerics who disclosed that the organization cut across the nation including African countries as well as London and America recalled that the organization was established eighteen years ago with the objective of empowering the Ministers of God as well as ensuring that they win their battles pointing out that the major challenges of the organization was fund and charged members to remain spiritual and prayerful to overcome their challenges.
They charged Nigerians to always do the right things and project themselves with the words of God.
Earlier in his sermon entitled "Chosen Generation" Arch Bishop Emma David Okafor Agu noted that God has chosen everyone on earth for a particular duty for a purpose. The clergy man who cited 1st Peter verses 2 to 9 and Act 18-26 noted that the priest hold in the God vain yard were chosen above other persons to direct them on how to live a righteous lives.
According to him in Deuteronomy chapter 6-I God has chosen the priest above any other nation "and you should not look down on yourselves even in the secret places God said he will never forsake you but be with you always". He called on the priests to do what is expected of them because they were call for a purpose. ###