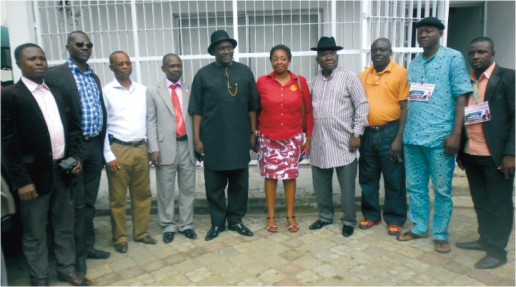 The leadership of 30 socio-political organizations with operational base in Rivers State has presented a meritorious certificate of endorsement to Chief Captain Sunday Nwankwo to run for the Governorship position of Rivers State, come 2015.
Addressing the media and supporters of Captain Nwankwo at a joint press conference in Rivers State, the National Coordinator of Chief Captain Sunday Nwankwo Project CNP, 2015, Comrade Japhet Ogbueri described Nwankwo as a "tested Marine logistics expert and safety professional" with about 27 years of working experience.
Ogbueri pointed out the Captain Nwankwo in his philanthropic gesture has provided jobs for over 1000 persons in the marine sector. He was optimistic that the quest of Nwankwo to revive the technical education in Rivers State if he has the mandate will come to realization if he, Nwankwo declares to run for the Governorship position in the state, which he, Ogbueri believes, is the most favoured and qualified person.
The CNP Coordinator affirmed that the wealth of experience of Captain Nwankwo will be brought to bear in managing the affairs of the state government, when he eventually wins in 2015 election, haven worked as a senior management personnel in multinational companies like Tidex Nigeria Ltd, Walvis Nig. Ltd. (Sea Truck Group) and Edison Chouest Offshore Nig. Ltd.
Some of the ethnic representatives at the conference which include: Chima Choko, Speaker of Etche Peoples Assembly, Chief Jonas Kpugbara of Ogoni Land, Hon. Jumbo Ohaka of Emohua, Moshood Chimaraoke of Ogba/Egbema/Ndoni LGA, Mrs. Chika Wogu and Mrs Favour Chukwu of Rivers Daughters.
Others include: Mrs. Franca Ugbechie, woman leader, Non Indigenes, Rivers State, Fiwarigoma Sam Ben of Opobo/Nkoro, Ugbana Jacob D. of Andoni, Hon. Obi Amadi of Port Harcourt City LGA, Hon. Chris Anagbaraonye of Igbo Community in Rivers State and Comrade J. C. Bright, spoke in solidarity and support to Chief Nwankwo, believing that he will emerge victoriously at the end of 2015 Rivers gubernatorial election.
Earlier, the leadership of the Rotary Club of Port Harcourt, RI District 9140, Nigeria, under the leadership of Frank E. Eni, who was accompanied by the incoming President, Anne Anyaka, among others, paid a courtesy visit to Chief Captain Sunday Nwankwo, requesting him to identify with the organization, whose aims are to develop communities, impact on lives and ensuring that polio is eradicated in Nigeria among others.
Responding, Chief Nwankwo on separate meetings, commended the Rotary Club of Port Harcourt for the honour done him and assured of reciprocating to their request.
He lauded the coalition group for their request, stressing that the high point of the event was to consolidate on their collective support for President Jonathan's re-election, believing that once the coast is clear, that everything will work better for all of them, and promised to get back to them after due consultation with the party.
By Blaise Elumezie