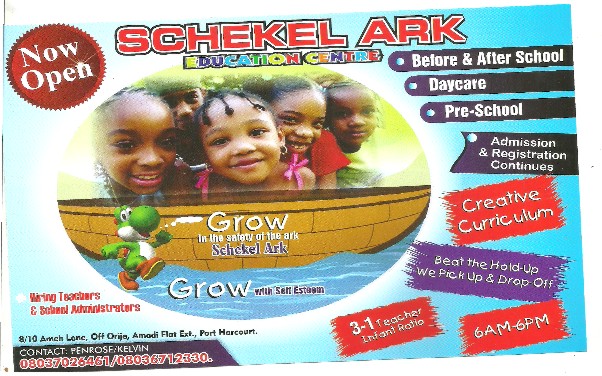 Schekel Ark Education Centre is now open in the Port Harcourt City Local Government Area of Rivers State.
The basic mission of the school is to provide an inclusive, safe, stimulating and caring learning environment for children by nurturing each individual child's sense of belonging.
During an exclusive chat with our managing editor on Monday the Proprietress of the school, Mrs. Schehera Horsfall Penrose said that the philosophy of the school is to focus on the individual child, adding that the Schekel Ark Education Centre provides a place for children where they explore their interest and maximize their potential.
"Schekel is a very special place for young children exploring the world", the Proprietress said.
According to her, the school has qualified teachers to effectively handle the educational needs of both the parents and the pupils.
She maintained that, "At the Schekel Ark, we are poised to start children off on the right foot, to recognize how special each child is by emphasizing positive self-esteem and the knowledge of God". She pointed out that the school has a creative curriculum that incorporates the latest research and best practices and takes into account the need of every type of learner.
"The creative curriculum uses exploration and discovery, though structured rich and varied play to enable children develop confidence, creativity, and life long critical thinking skills", the Proprietress said.
Schehera Horsfall Penrose declared the readiness of the school to uplift the standard of the education in the state, noting that the school would on daily basis send the report of the child to the parents.
She urged parents to ensure that their children are registered with the Schekel Ark Education Centre for their bright future.###