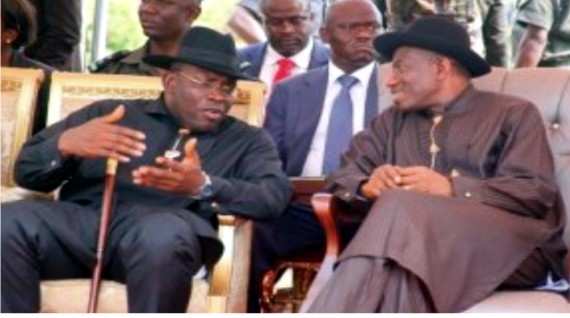 Bayelsa State governor, Seriake Dickson, on Monday led political leaders in the state on a sensitisation tour of wards and units in the Yenagoa local government area of the state, an action which he said was necessitated of by the slow pace of collection Permanent Voter's Cards (PVCs) in the state.
Dickson, who was accompanied by the first executive governor of the state, Diprieye Alameiseigha, visited palaces of the Obenibe of Epie Kingdom, HRM Malla Sasime, the paramount ruler of Ekeki community, Chief B.Z Odoki, said though the number of registered voters in the state is the smallest with over 610,000, the slow rate of collection is worrisome to the state and President Goodluck Jonathan.
Governor Dickson stated that as part of the state government's efforts at ensuring quick collection of the PVCs, the state declared a public holiday.
"As at the last data from the INEC, we have attained 66 per cent. Though a pass, we need to attain 95 per cent collection. Anytime they count us, they don't count those in the fishing settlements, this is why we are the least in terms of voting population. With this small population, God gave us a mighty position of producing a president," he stated.
Some of the traditional rulers visited by Dickson, including the Obenibe of Epie Kingdom, HRM Malla Sasime, made a royal pronouncement urging their subjects to come out enmasse and collect their PVCs.
At the various collection centres visited, the public holiday declared witnessed huge turn out of prospective voters for the collection of the permanent voters cards.
The Resident Electoral Commissioner (REC), Mr.Barido Gbagi, in his assessment of the sensitisation tour conducted by the governor, commended the state's leadership and described the increased collection of PVCs as commendable.
Gbagi, who noted that over 40,000 Permanent Voters Cards are still being expected in some units of the state, said the huge turn out will ensure increased collection.