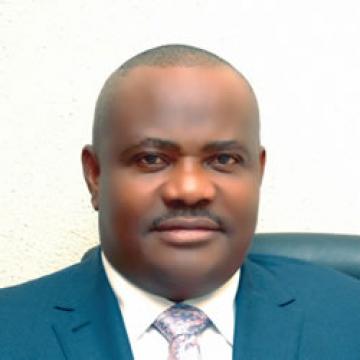 The sports ministry in Rivers State is assure of better days by the new administration of Governor Nyesom Wike.
Governor Wike assured Rivers sportsmen and women as he takes mantle of leadership as the Governor of Rivers State.
Governor Wike made the assertion while speaking on the novelty match organized in his honour to usher in his administration in a transition inauguration match played at Sharks Stadium last Wednesday, where former African Footballer of the year, and Skipper of the Super Eagles, Kanu Nwankwo also featured.
According to Governor Wike, he will lift up sports in Rivers State as sports is variable part of societal development all over the world.
He made an emphatic statement that sports talents will be discovered and encouraged to international level.
He promised scholarship to excelling brilliant sports men and women.
According to him, sportsmen and women occupy a place in his administration and will do everything to encourage them to excel in both local and international level.
The governor advised all sportsmen and women in the State not to be deterred in fulfilling their dreams and aspiration as his administration is ready to support them to achieved their potentials.
He appealed to them not to give up hope as his administration will always make them happy.
"My administration will not owe (athletes) sportsmen who are representing Rivers State as their salaries and due allowances will be paid as at when due.
With Governor Wike in the saddle of Rivers State Government, sportsmen and women is assured of better deal in their chosen career.