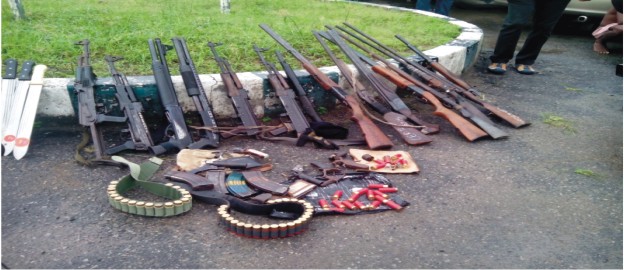 The Rivers State Police Command has paraded over ninety- three suspects, including eight suspected armed robbers, eleven suspected kidnappers and seventy-four suspected cultists.
Addressing the newsmen at the Command Headquarters in Port Harcourt, the state commissioner of police, CP Chris Ezike said the achievement was to fulfill his promises to provide qualitative service in fighting violent crimes and other criminal activities in the State.
CP Ezike also noted that his arrival re-awakened officers of his Force, adding that the reorientation of the average police office in the state also helped to achieve the recent gains.
The CP said invigoration of visible policing strategy and massive deployment of police patrol vehicles and declaration of one month emergency on violent crime had helped in the arrest of armed robbers, kidnappers and cultists, including the notorious ones.
According to him, "On assumption of duty as the 34th Commissioner of Police, Rivers State, in the last days of June 2015, I realized the enormity of the challenges vis-a-vis efficient delivery of satisfactory service to the people of the State.
"The crime-wave was getting higher, driven by increase in kidnapping and armed robbery incidents. These were fueled by cultism. Homicide cases and communal crises across the State were causing concern. Traffic gridlock added to this heap. Therefore urgent strategic steps had to be taken.
"During my visit to His Excellency, the Governor echoed above sentiments and charged me to address these challenges. He indicated his willingness to support us and has taken immediate positive steps in this direction.
"In my inaugural address of 2nd July 2015, I said my focus would be to provide qualitative services to the people of the State; fight violent crimes with vigor; partner with other security services and non-state actors; respect the rights of the citizens; abhor corrupt practices; promote professionalism and ensure peace, security and safety for the State and its people.
"We have taken these steps and I am therefore using this forum to highlight the major achievements recorded within the past 3 weeks; Re-awakened the service zeal and orientation of the average Policeman in the State. They must justify their pay by performing reciprocally, their expected duties, responsibilities and functions.
Invigoration of visible policing strategy and massive deployment of Police Patrol vehicles. Declaration of 'One Month Emergency on Violent Crimes'.
"I must say with pride that the Emergency on Anti-Crime is working, more Policemen are now on the road; response time has improved tremendously; Operation Keep Moving is proving to be a success. We will not stop or be complacent, the march is on and we must deliver on our promise to make Rivers State peaceful, secure and safe".