Allanso Jonathan Allanso
As the Federal Government gears up to dialogue with the Boko Haram sect, theNigerdelta Egbesu has challenged the sect.
"If the Boko Haram sect does not stop its senseless killing of innocent citizens of the country and venture to extend into any part of Niger Delta region, we will finish the sect within one week", they threatened.
The Egbesu militant body is constituted of angry youths of Niger Delta to protect the rights of innocent citizens of the region in the territories of Bayelsa andDeltaStates.
At the wake of the Boko Haram saga, elders of the region  entertained fear of the two warrior groups to clash because of the activities of the Boko Haram.
Earlier the Egbesu militant body had sent a warning signal that the body is ready and active to contain any excess of Boko Haram extending toPort Harcourt, its territory.
A letter to this effect has also been sent to the president of the country who has been wooing Boko Haram to tow the part of peace, being a peaceful man, as the President has never been known for supporting any act capable of disrupting the smooth and peaceful atmosphere of the country.
This weekly gathered that some Boko Haram members are taking the risk of planting themselves as to execute their deadly acts of killings in parts of the Niger Delta, which has prompted the Egbesu militant group to send out the warning.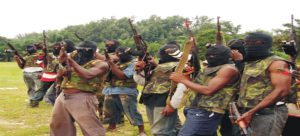 According to the letter the extent Boko Haram is going, Nigeria may divide into different groups as no part will be happy to see its people being killed by another group of people in the same Nigeria, adding that but for the respect and to maintain Egbesu corporate image of Nigeria, the Egbesu boys could have tested their might on the Boko Haram sect".
Being a peaceful president, President Jonathan is said to have given his words to the Egbesu boys not to do anything no matter the temptation the Boko Haram sect may pose to the Niger Delta region, as the federal government is capable of taking care of any situation in the country. ####