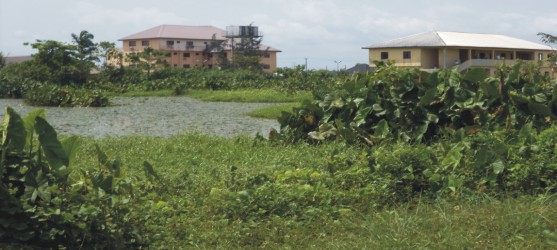 The Principal of Community Secondary School Abalamabie, Bonny Mrs. Grace Jumbo in conjunction with management are calling on the government of Rivers State under the leadership of Rt. Hon. Chibuike Rotimi Amaechi for immediate rescue of students facing threats from crocodiles, python and other dangerous reptiles confronting the safety of students on the school compound as students were no longer in peace of mind in their learning environment.
The principal who is also said to be a classroom teacher due to lack of teachers in the school made this remarks in an interview with our correspondent on Tuesday in her office over the challenges facing the school.
According to the principal, Mrs. Jumbo the swamp which occupied about 150mx300mtrs of land in the school compound has provided home for wild crocodiles and pythons, as well as other wild reptiles which attack students.
"The situation now is demanding immediate fencing of the school against these dangerous creatures as a means of securing a safe environment for the students of the school," she said.
Mrs. Jumbo further narrated that during the last holiday of the school, crocodiles and python were discovered by passer-by and neighbours of the school as some came out from the swamp in the school yard while some sink themselves in the swap, having noticed presence of people within  the area.
The school authority explaining also appealing to the state government to send more teachers to the school explaining that the school has only one teacher.
The principal also who maintained that, several letters have been written to the commissioner for education Mrs. Alice Nemi over the years but no effort has been made to address these challenges confronting the school, appealed to the Rivers State government to consider the school.
Earlier, the UBE principal, Mr. Gabriel that sand filling the swamp is another option to solve the problem confronting the school. He said, the school management has written to several companies in Bonny Island, but no solution has been provided to address the complaint of the school authority. He also revealed that appeal was also sent to the local government council but to no avail.###
Alapakabia Tobin