Kingship Tussle: Elelenwo Community On Fire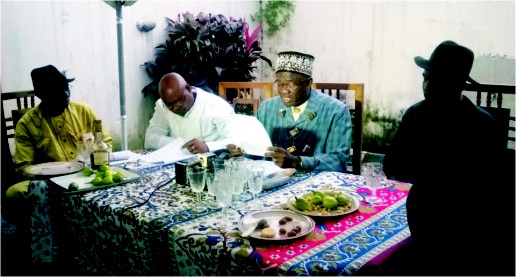 The recent coronation of Chief Sunny Weli Chuku JP as paramount ruler of Elelenwo community in Obio/Akpor of Rivers State has continued to generate controversy and has been jettisoned by the Council of traditional rulers in the community.
A statement signed by seven members, on behalf of the council of traditional rulers, and read by Chief Barrister Mike Wodi, described the coronation which was done on Friday as a kangaroo coronation, and hence a nullity.
"It has come to the notice of the Council of Chiefs that some persons from Elelenwo community went ahead and crowned one Chief Sunny Weli Chuku JP as the Eze Elelenwo Etor, paramount ruler of Elelenwo without getting clearance from Elelenwo Council of Chiefs that superintends all traditional matters, coronation of paramount rulers and other chiefs inclusive" the statement read.
It further voided the exercise and urged the general public to discountenance  it, since it lacked the merits of due process.
"The council urges the general public to discountenance any purported coronation of Chief Sunny Weli Chuku and any publication either by print or electronic media in this direction. The coronation of Chief Sunny Chuku is hereby declared null and void and of no effect", he read.
He said, customarily, after the death of the former paramount ruler ,Eze Godwin Bekwele Wodi, last year, the council ought to mourn him for at least one year before calling for a replacement within which period a member of the council would act as the Eze.
This he said led to his appointment as the acting Paramount ruler of the community.
According to him, the Council of Chiefs had further mandated the Rumuodiani community in Elelewon whose turn it is to produce the next Eze to forward two names of eligible candidates for screening.
"Consequently, a 10-man screening committee was appointed by the Council of Chiefs, headed by Eze Princewill N. Ehoro to screen the two names that would be forwarded to them and come up with a qualified candidate".
He said they were still waiting for the report of the screening committee, insisting that till the committee submits its report, nobody has the power to make any pronouncement on the position of the would be Eze or even has the right to crown anyone.
"Elelenwo Council of Chiefs at the submission of the report by the committee charged with the selection of Eze Elelenwo Etor, will announce to the general public who will occupy the stool and that is our position for now" he maintained, and  blamed some politicians for masterminding the coronation of Chief Sunny Weli Chukwu noting that, "Eze Elelenwo Etor is not a political stool to be determined by any politician or political party, Elelenwo Council of Chiefs are thorough, cultured and civilized personalities and have a way of doing her things"
Reacting, Chief Sunny Weli Chuku dismissed comments by Bar Wodi that his coronation lacked merits and was being politically induced, insisting that it was duly done, with all traditional rights observed.
"I was duly installed as Eze Elelenwo Etor by the three Ejiowhors of the community", he maintained.
He acknowledged the fact that the throne was zoned to Rumuodiani and that a screening committee was set up headed by former Commissioner of Budget and Planning in Rivers State, Mr Mike Ejims as chairman and Francis Amadi as Secretary.
"The committee was asked to go and select three candidates that would represent Rumuodiani community and Rumuodiani would select two out of the three and  present to Elelenwo community and Elelenwo community will now select one person to be installed".
"Three candidates were selected and presented, namely; Chief Barrister Mike Wodi, Chief Emmanuel Emma Amadi and Chief Sunny Weli Chuku. Out of the three names presented, that of Bar Chief Mike Wodi  was dropped after a voting process done by the Council of Chiefs," he noted.
According to him, aggrieved by the outcome of the voting process, Chief Mike Wodi, armed with a petition, hurriedly set up another screening committee headed by Eze Princewill Ehoro, "and the community seeing what was going on ran to the Obio/Akpor Council and reported the matter to the then Caretaker Committee Chairman of the council, Hon Collins Onuwon, who  invited us and after hearing the matter, dissolved the kangaroo committee set up by Mike Wodi".
"And Chief Bar Wodi and Prince Ehoro came up with a letter that a whole CTC chairman, who is also the Chief Security Officer of the council has no right to interfere in Elelenwo matter, so when the community saw that letter, they said they had to take the bull by the horn, they gathered together, both the three Ejiowhors and the elders came here and said i have to be installed as the paramount ruler. They carried me down to the play ground and installed me as the paramount ruler of Elelenwo community".
He noted that Elelenwo has been a peaceful community and advised Bar Wodi to accept defeat and join hands with him to work for the progress of the community.
"We don't want to cause trouble in Elelenwon, I am ready to embrace everybody, I am young and an easy going man, I want the peace of the community and empowerment for my people, we don't want what is happening in other communities to happen in Elelenwon, we were six contenders, four were screened out, and they are not complaining, what is the interest of Chief Mike Wodi, why is he complaining, what does he want to do in Elelenwo community, he has spent more than fifteen million naira bribing people. You don't buy the Ezeship with money, if your people say it is you they want, it is you they want," he said, adding that he had already dissolved the Council of Chiefs.
Also, Chief David Wodi, elder brother of Chief Bar Mike Wodi, who is also one of the Ejiowhors, said the coronation was proper and followed due process.
According to him, Eze Sunny Weli Chuku was chosen because of his track record of truthfulness and integrity and advised his brother to sheathe his sword.