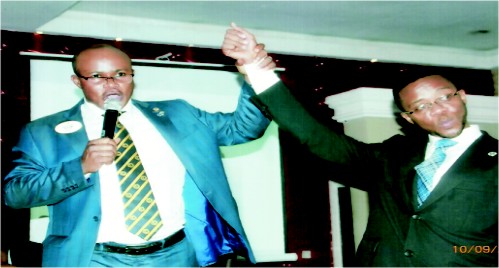 Prince Nwosa has been installed as the Centennial President of the Port Harcourt New Garden City Lions Club, District 404A2 Nigeria.
The installation and the investiture were performed by Lion (Chief) Paul Muokolum, the District Governor, 404A2 Nigeria. During at the event, Lion Muotolum disclosed that Prince Nwosa was the first in the line of Centennial President to be installed. He expressed optimism that, Prince Nwosa and his executive will take the Port Harcourt New Garden City Lions Club to the next level.
Shortly after his installation and investiture, Prince Nwosa thanked the members for finding him worthy to serve.
Prince Nwosa noted that over the years he had come to accept the Lions Club as his own family, adding that through the club he has the opportunity to provide service to his immediate community and the society at large.
His words, "I have also had the privilege of learning selflessness and altruistic empathy to those in need while ensuring that situations that lead life untoward circumstances are abated and reduced to a manageable minimum."
Prince Nwosa recalled that since the inception, the Port Harcourt New Garden City Lions Club has embarked on many laudable projects including construction of a building wing of the Orphanage Home in Borokiri, partnering with the old Peoples Home in Harbour Road, Port Harcourt, health screenings such as hepatitis, Ebola screenings, environmental awareness projects amongst others.
He, however, promised that in this year, the club will carry out series of projects such as establishing an electronic library in a school in Port Harcourt, environment support programme and several others.
Prince Nwosa solicited for the support of all members to succeed.
Also speaking the outgoing President, in his valedictory speech thanked God for giving him the grace to serve.
He enumerated some of the projects the club executed under his leadership which include: provision of cement and building materials to an Orphanage in Omagwa, visit the elderly at the Port Harcourt Old People's Home, donation of text books and exercise books to two primary schools in GRA, Port Harcourt amongst others.
Other officers installed include: Casmir Ezeonwuka, Secretary, Imo Obum, Treasurer, Lucky Ovili Odili, 1st Vice President, Engr. Iseleye Amachree, 2nd Vice President, Nwaji Chika Linda, and Tobor Aomreore, Project Director.
The highlights of the occasion was an enlightenment lecture on HIV/AIDs by Dr. Golden Owhonda and the induction of new members.  ###