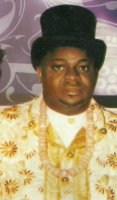 April 14, 2012, will forever remain indelible in the annals of Ogu history as the community played host to the rest of the world as the who is who in the society gathered to witness the special occasion of Ogu community conferment of honorary chieftaincy title of Igo Alabo on one of their own, Senator George Thompson Sekibo.
A humble man with his people at heart, he went into politics with the purpose to serve, not to take from the people whom he has vowed to represent constitutionally, even as he has the opportunity to corner the constituency projects fund to his coffers. He did not follow that direction but opened his mind to dish out service and proved those of his counterparts that fail to realize their purpose of being in the senate wrong.
In his speech, the Senate president, Senator David Mark, described George Sekibo as a leading light in the senate, a consummate and brilliant lawmaker, a courageous lawmaker who abide by the law of the federal republic and one who has no personal interest in the senate, pointing out that all his contributions were original and thought provoking.
Senate Mark who was represented by senator Chukwumereje congratulated the people of Ogu/Bolo for recognizing a worthy son.
Senator Mark noted that senator Sekibo has done well for the people of Ogu, hence they honoured him with the chieftaincy title and advised him to do more things for them, stressing that "to whom much is given much is expected".
In her speech, Mrs. Patience Jonathan, the wife of the Nigerian President who recalled senator Sekibo's achievement in the Federal House of Representatives, described him as a philanthropist, a man of honour who deserved to be honoured, stressing that he has represented his people well.
Mrs. Jonathan who was represented by her special Assistant, commended the traditional rulers and the entire people of Ogu/Bolo for recognizing Senator George Sekibo's hard work, organizing civic reception in his honour, as well as bestowing on him a chieftaincy title.
In his response, Senator George Thompson Sekibo described the day as a special day because of what it represents in his life, the honour from his people and the assemblage of very great dignitaries, friends, and associates in his honour.
According to him, "for me the Ogu people have done a new thing and I feel profoundly touched. As great people you have again expressed your love for me, and demonstrated to the world that your decision to choose me to run for the December 12, 1987 chairmanship election of the then Okrika/Oyigbo/Tai/Eleme LGA was not a mistake. You have by today's action demonstrated to the world that your prayers and indeed the prayers of our great patriots dead and living are still being answered by the almighty God. As I stand in the shock of this awesome experience, few things run through my mind. I can still recall the 13th day of December, 1987, when through their uncommon unity of purpose, the Ogu people work assiduously to build bridges of friendship, and produced their son for the first time to head a local government council."
Senator Sekibo recalled all the good things Ogu peole have done for him including the chieftaincy title, commended them and thanked all well-wishers who graced the occasion. ###
Earlier in his address, the chairman of Ogu Divisional Council of Chiefs, Sir. Chief E.M Obiorika Kalaowi Perefi, recalled George Sekibo's tenure as the pioneer chairman of Okrika local government area of Rivers State in 1989.
Chief Perefi noted the people-oriented programmes carried out by Sekibo which improved the lives of his people, as he delved into history to justify why the chieftaincy title was bestowed on him.
Senator Chief George Thompson Sekibo started his political career due to the emerging challenges confronting Ogu town. Immediately after his national service, he was drafted into politics by concerned citizens of Ogu town including the late Amanynabo of Ogu, HRH Eli Ada, Loko VII. The reason is not far fetched, seeing the shining aura of Sekibo.
Sekibo's first port of call as a distinguished politician coming to rule his destiny was being the first chairman of Okrika Oyigbo, Tai, Eleme local government. From then onward, this politician shot higher and higher with every step of the political game, with a steadily improving records in all stages. In 1989 he became the pioneer chairman of OKrika local government area when it was created. He was appointed special adviser on projects to Dr. Peter Odili governor of Rivers state.
For the role he played when Ogu was in crisis through the instrumentality of government machinery, he was picked by his people to run for the Federal House of Representatives, representing Okrika/Ogu/Bolo Federal constituency in 2003. For his sound representation to his people, he went for the senate seat and doubled what he did in the House of Representatives, hence he was given a second term which position he is still serving.
The humble man, senator Chief George T. Sekibo JP, revealed that he had been given 45 honorary titles by various groups and communities in his 55 years of existence on earth, yet he did not answer them, including doctorate awards.
He crowned the day with blessing 600 people from his constituency with constituency projects by giving out motorcycles, deep freezers, desktop computers, indiscriminately. It was indeed a day of joy for people of his constituency as their lives will never visit the downside of life, with what was given to them.
Allanso Jonathan Allanso
and Emeka Jilly Ejiowhor