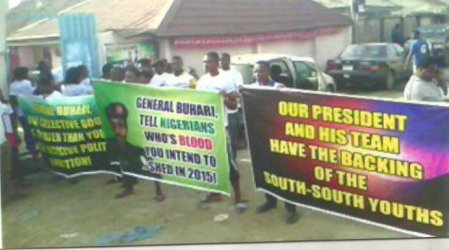 Youths of Rivers State under the aegis of Concerned Rivers Youths, staged a peaceful protest march along major streets of Port Harcourt, on Tuesday, May 22, 2012, to express their anger and condemnation of the recent statement by the Presidential Candidate of the CPC in the 2011 general elections, Major General Mohammadu Buhari.
The former Head of State stated that there would be violence and bloodshed if the 2015 election is rigged.
The Group condemned the said statement in strong terms, describing it as highly inflammatory, particularly now that there are major security challenges in the Northern part of the country. It added that the said statement was capable of heating up the polity and called on Nigerians to disregard such calls to violence.
The Group expressed confidence in the ability of President Goodluck Jonathan to conduct a free, fair and credible election in 2015, adding that the 2011 general election he conducted was adjudged the most free and fair election in the history of Nigeria.
The Group pledged their unalloyed loyalty and total support for the Jonathan-led administration in the country and called on General Buhari to honourably withdraw his statement of threat in the interest of the unity of Nigeria.
The unity of Nigeria is sacrosanct and non-negotiable, the group added.
Briefing Newsmen during the protest march, a leader of the Group and President of Rivers Upright Movement, Comrade Biokpo George, stated that Nigeria's unity should not be sacrificed on the altar of personal ambition of General Buhari. He emphasized that Nigeria as an entity is far greater and bigger than any one individual, and "we must all say no to disunity and bloodshed."
He described President Goodluck Ebele Jonathan as a man of peace that needed the support of all Nigerians to achieve the Nigeria of our dream and that the election he conducted in 2011 was adjudged the most free and fair election in Nigerian by International Observers. George therefore called on Nigerians to expect a far better election in 2015 and disregard the call to violence and bloodshed by a former military president whose regime was noted for Human Rights abuses and intolerance of the Freedom of Expression.
Describing Gen. Buhari as a man with a penchant for violence and a man that has never wished Nigeria's democracy well, George said he was principally instrumental to the 1975 and 1983 coups in Nigeria.
Some of the placards read displayed by the group include, "Our President And His Team Have The Backing Of The South-South Youths", "Gen. Buhari, Tell Nigerians Who's Blood You Intend To Shed In 2015?", "We Will Not Remain Quiet While That General Threatens Our Peace", etc.