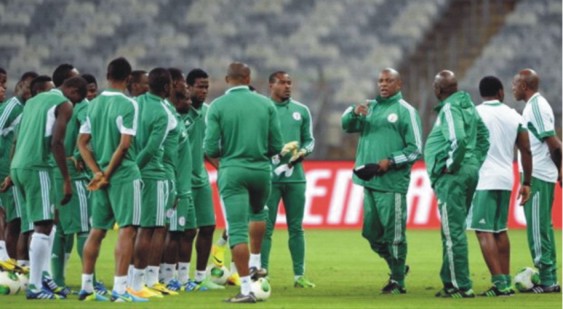 The Super Eagles have recovered from the jetlag that arose due to their late arrival in Brazil and are relishing the clash against La Celeste on Thursday
Nigeria arrived in Salvador, Bahia two days before their clash against Uruguay at Estadio Pituacu. The African champions held their first training inside the arena on Tuesday as they prepare to play against the champions of South America in Thursday's match.
The Super Eagles defeated Tahiti 6-1 to stay top of Group B on goals difference ahead of world and European champions Spain.
Gone was the troubled start to the tournament that ensured the team arrived hours to their opening game due to a bonus row.
"We're ready. Of course we have had our issues. But that is not who we are. What we want to do is play football. I am proud of my players for the way they overcame tiredness, jetlag and everything else to get three points and those goals against Tahiti," coach Stephen Keshi said.
"Now we have tried to get them as much rest as possible and we just want them to have fun on Thursday.
"We know a little more about Uruguay. So we can plan a little better, but we will not be preparing much different from the way we normally do.
"We have our own methods, our own tactics and our own way of playing, and that is what we plan to do."
Both nations have never met at senior level and it promises to be an exciting encounter on Thursday in Salvador. The match will start 11pm (West African Time).