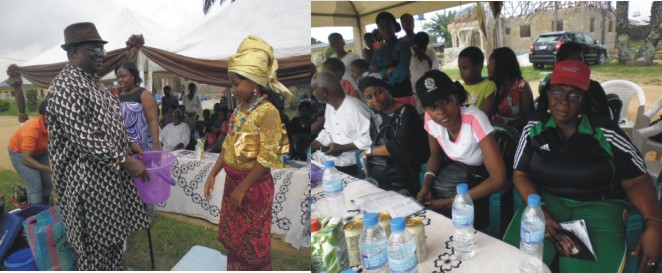 A prominent chief in the Obio/Akpor LGA of Rivers State, Chief Cyprian Amadi Wordu, Otunahia 1 of Rumuobiokani has called on the Rivers State Governor, Rt. Hon. Rotimi Chibuike Amaechi to sort for any possible way and make haste in reconciling with the President, Dr. Goodluck Ebele Jonathan on the present political crisis rocking the state.
Chief Amadi made this call at the venue of the recently concluded Maiden Inter-House Sports Competition organized by Greenwood Nursery and Primary School at Rumuobiakani Community, Rivers State.
His words "Amaechi should go nearer to Jonathan than any other person. He should forget those that are making him to fight Jonathan. Amaechi should do away with praise singers that are only looking for recognition and how to fill their pockets and stomach infrastructure.
He should go with notable elders from the state to meet with Jonathan or possibly with the wife, for the sake of peace and I believe that Jonathan will listen to him and all the crisis will die off, he added.
Wordu opined that President Jonathan cannot come to beg Governor Amaechi hence the need for him to disregard praise singers in order not to jeopardize the political influence he has built over the years, adding that he has a more brighter political opportunity in the state and the nation at large.
 Meanwhile, Dr. Mrs. Evon Megbele, the Nursery and Primary School used the medium to commend the proprietor of the school, Deaconess (Mrs.) Dorathy Emily Ntibi for the good job she is doing and advised parents who may not have the financial capacity to send their children to private schools to make do with the government schools in the state.
In her remarks, the school proprietor, Deaconess Ntibi said her vision was to ensure that children that were brought to her school are properly trained. She hinged her challenges on finance which was occasioned by the pupils that are mainly those from the community where her school is domiciled.
Mrs. Ntibi advised parents not to reflect on how much they are spending on their children's education, as no amount of money will be enough to quantify the educational up bringing of their wards.
She disagreed with those school proprietors without any experience or knowledge of school administration, adding that schools should not be set up for the purpose of making money and promised to give her best to those that are placed under her care. ###
Blaise Elumezie