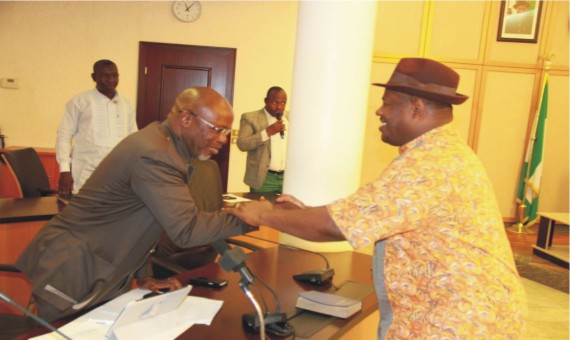 Rivers State Governor, Rt. Hon. Chibuike Rotimi Amaechi, says his administration would continue to partner with the Revenue Mobilization, Allocation and Fiscal Commission (RMAFC) in its sensitization drive on the new revenue formula for States in the federation. Governor Amaechi said this when a delegation of the RMAFC led by one of its federal commissioners, Chief Nimi Dambo-Kalabo visited him in Government House, Port Harcourt.
Represented by his deputy, Engr. Tele Ikuru, the Governor said the issue of distributing the nation's resources should be commensurate with contributions to the national treasury and help fast-track the development of the country, stressing that "if we do it rightly, we assure ourselves of turning the country around for good".
Governor Amaechi, who is also the Chairman of the Nigeria Governors' Forum, urged the commission to put in its best in reforming the revenue formula, emphasizing, "Let the right thing be done in this country".  Speaking earlier, the Federal Commissioner and the team leader, Chief Nimi Dambo-Kalabo, noted that the aim of the visit is to have an interactive session with the three arms of the government on the new revenue sharing formula with a view to ensuring that it is just and equitable.