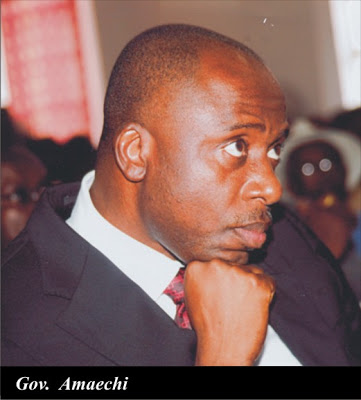 …"Some LGA Chairmen Are thieves, Debtors"
As controversies, accusations and counter-accusations trail the alleged ceding of some oil wells from Soku community in Rivers State to the neighbouring Nembe community in Bayelsa State, the executive chairman of Obio/Akpor Local Government Area of Rivers State, Prince (Hon) Timothy Nsirim has alleged that Governor Chibuike Rotimi Amaechi has collected a total sum of thirty four billion naira (N34bn), as revenue accrued from the "controversial" Oil Wells in Soku when he resumed office as a Governor.
Prince Nsirim who made this known when a socio-political organization known as South-South Chiefs, Elders, Sisters, Youths and Opinion Leaders Network led by its Chairman and National Director, High Chief Omubo Atuboinoma Harry JP paid him a solidarity visit in his office at Rumudomoya, headquarters of the council, alleged that it was ex-Governor Peter Odili that actually fought for the oil wells.
"I cannot understand why Amaechi is making so much noise about the Soku Oil Wells when he has already collected N34bn from it," Hon. Nsirim alleged, saying that, "People should know about the truth of it. Amaechi should stop deceiving the Rivers people".
The Obio/Akpor Council Chairman lampooned the Governor for not respecting constituted authorities and traditional institution. Hon. Nsirim frowned at Amaechi's non-challant attitude towards the President of the Federal Republic of Nigeria, Dr. Goodluck Ebele Jonathan.
"By Amaechi's age declaration, the President senior him by nine (9) years. So I see no reason why Amaechi cannot respect such a man. Afterall, Goodluck Jonathan had been a lecturer, Deputy Governor, Vice President, Acting President and President. Such a man deserves absolute respect." Hon. Nsirim said.
The Obalga Council Boss, who reiterated the support of his LGA, said that Obio/Akpor is for President Goodluck Ebele Jonathan in 2015, saying that no political party can defeat Goodluck Jonathan in Obio/Akpor, because he has done much for the people of Nigeria.
He applauded the president's giant strides which include: resuscitation of the rail system, improve in power supply, increase in foreign reserve, construction of roads amongst other infrastructural development.
The council boss told his guests, the reason why Governor Amaechi is fighting him, "because I refused to go against Nyesom Wike. Amaechi wants me to abandon Wike. Why should I abandon him? Afterall he is my blood brother. Amaechi should stop insulting me".
"Amaechi is not my equal. I married before him, I built a house before him, I bought a bicycle before him, I bought a car before him, I got a child before him," Hon. Nsirim said.
The Obalga council chairman who had earlier demanded for local Government autonomy, expressed optimism that if the local government system is granted autonomy, development will be faster at the grassroots.
He bemoaned the ugly state of Local government system in the country, stating that except the councils are free from the state governments, people at the grassroots will continue to wallow in poverty.
Hon. Nsirim blasted some of the council chairmen in the state. He described them as "criminals, thieves and debtors." He alleged that most of the council chairmen owe banks huge amount of debts.
His words, "As for me I have never borrowed money from any bank to execute my projects. But some of these local government chairmen are thieves. They are criminals. I can name them".
He charged parents not to allow their children to be used by unscrupulous politicians to foment troubles in the state. He further urged the group to continue to support President Jonathan, saying that in the history of politics, Rivers people have never voted against the Central Government; therefore 2015 cannot be an exemption. Hon Nsirim described some of the ongoing projects as "cosmetics" that would not put smiles on the faces of the Rivers people. ###