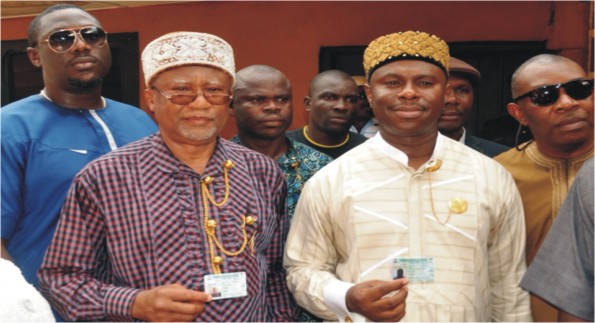 The All Progressives Congress, APC, governorship hopeful in Rivers State, Hon. Dakuku Adol-Peterside says Governor Chibuike Amaechi has laid a formidable foundation of service delivery in the state.
He said there would have be no reason not to perform well if he emerged governor in the 2015 general elections.
Hon. Peterside stated this weekend while addressing supporters at Kono Waterfront shortly after he collected his Permanent Voter's Card in Opobo Town, Ward 3.
He said, "I want to express appreciation to Governor Amaechi who made efforts to make Rivers State great. He was a visionary leader who came and transformed the state. He has laid a solid foundation for me.
"I am extremely surprised to meet you people of Kono here because, I didn't contact anybody to gather you here to meet with me. But, I believe, you heard I was coming home and I will pass through this route to my town, Opobo that was why you decided to gather here to receive me. Let me remind you all that Kono and Opobo are two neighbouring towns who share common interest. I am very sure that nearly every Opobo person has a family in Kono and I know that if I come to Kono, every Kono person will receive me into their homes. I think, this is a time that every Kono person should begin to kneel down and thank God for locating us", Peterside said.
He also gave the indication that his administration, if voted into power, would eliminate poverty and build on the economic potentials of the state to achieve a better life for all Rivers People.
"When we assume power in 2015, I will wipe out poverty. I will ensure that the economic potentials are realistic in building a new Rivers State, and that I believe we can do with the help of God Almighty. All we need to do is to give our leadership immense support. We will build on the foundation of Governor Amaechi. In this journey, everybody has a role to play.
"Everything begins with a step and the first step you will take is to go and obtain your voters' card. It is your power to determine your leaders in 2015. Don't subject yourselves to any bribe. It will fail you from the determination of your future. I urge you all to play your part. Promise me that you will not disappoint me. Rivers people should trust me. I owe you people a responsibility to deliver", He said.
The APC guber aspirant also promised Rivers people that he will make frantic efforts to attract investors to the state and ensure transparency in piloting the affairs of the state to the glory of God.
"I will attract investment opportunities to Rivers State. So, everybody will come and join us to develop the state. We will work with the fear of God. I am a son of God and I will account to God and man through transparency, decency, honesty. All of us must work together, our strength is our unity", Peterside stated.
He charged the Kono youth vanguard and supporters of APC in Ogoniland to sensitize and enlighten their followers to massively vote him in the 2015 general elections.
Earlier at the ward 3 polling unit in Opobo town, Hon. Peterside said, the PVC is an important document that speaks volume about leadership put in place by the people and urged Rivers people to collect their PVCs and vote him in the 2015 governorship election.
"This is a very important civic duty and I want to encourage everybody to be part of it. Development of this nature rests on leadership. Rivers State needs the kind of leadership to accelerate development and by that we need to obtain our PVC to maintain the needed change. We want leaders who will pursue our desires and aspirations. Our leaders should see election as a necessary obligation to choose leaders that will build a great nation and that means selfless sacrifice.
"I urge all Rivers men and women who feel that we can develop on the foundation of Governor Amaechi to get their PVC's and vote for us. We can build on that to develop our dream. With what I have seen today, if it is what is happening in other polling units across the state, then, we should say, INEC is working. And it means, votes will count", Dakuku said.