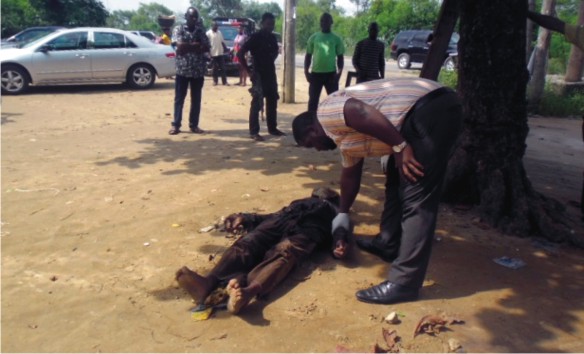 The Nigeria Union of Pensioners, NUP, Rivers State council has lost another of its members again, shortly after it protested at the offices of the Rivers State Accountant General, Director of Finance, Commissioner for Finance and the Secretary to the State Government, SSG, on demand for their unpaid four months pension and wage increases since 2003.
Briefing newsmen at the University of Science and Technology, UST, Port Harcourt, Rivers State, after the death of Mr. Francis Fynebone was confirmed by Dr. Amadi Nkemjika of Health Services Department, UST, before a team of mobile police men led by ASP Ime Hansen and the Chief Security Officer, CSO, of UST; the NUP chairman of UST branch, Mr. Iduonibin Obaghama said that late Fynebone died of hunger, having not received his pension for about four months, now.
Obaghama described the death of Fynebone who hails from Opobo, in Opobo/Nkoro LGA of the state as pathetic, adding that it was very disheartening for the state Commissioner of Finance to allow his kinsman to die of hunger, after serving the state, meritoriously.
The branch chairman of NUP further disclosed that late Fynebone retired from active service in UST, on schedule 162 and pension number 135537, with a wage of #7,449k per month. Obaghama noted with dismay that late Fynebone and two others who died after their peaceful protest last time, had died in penury and sacrificed their pensions and other entitlements to the alter of Governor Rotimi Chibuike Amaechi's political ambition.
Obaghama, who admitted that the death of their members in the course of their struggle may weigh them down, pointed out that those of them that are still alive will continue with the struggle until their demands are met.
Blaize Elumezie