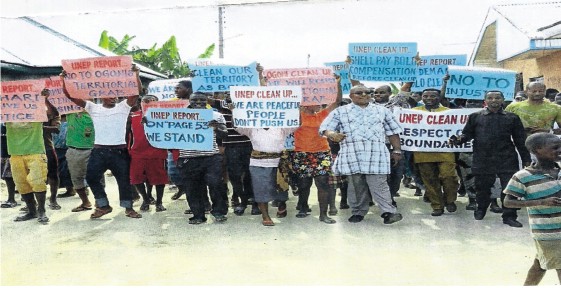 The people of Bolo Community in Ogu/Bolo Local Government Area of Rivers State has protested over what they call the height of injustice, marginalization, neglect and land grabbing.
According to the Legal Adviser of the Bolo Community, Barr. Mela Oforibika while fielding questions from journalists said page 53 of the UNEP Environment Assessment of Ogoni Land Report, 2011 States as follows: "Bodo West is an area within the extensive network of Deltaic creeks. Though uninhabited it includes a number of oil wells.
The wells themselves are submerged, while the associated production station (now decommissioned) is on land. Bodo West is officially maped as belonging to Ogu/Bolo Local Government Area but since there are no local settlements it has been regarded by both SPDC and the Ogoni people as part of the Ogoni Land oil facilities, Bodo West was therefore included in the scope of UNEP's work.
According to Barr. Oforibika the twisted logic of shell, the Ogonis and UNEP is weird and funny if it were not so serious as to constitute ethnic cleansing consider that Niger Republic can cross the boundaries with Nigeria into the desert area uninhabited in Sokoto State and lay claim to facilities there as being part of Niger Republic. A recipe for war you might say rightly. Can you cross Local Government Area boundaries and claim facilities that do not belong to your people just because the behemoth called shell wants to pin brother against brother? The Bolo people in Ogu/Bolo Local Government Area will peacefully resist any attempt to take us off the map of Rivers State by shell in league with the Ogonis (enacting the stockholm syndrome). LET THE ANCIENT LANDMARK REMAIN AND TRUTH PREVAIL. We do not want a separate country or state, we want justice and respect.
UNEP clean up of Ogoni Land should stop at Ogoni Land L.G.As. kindly do a Bolo clean up as 90% or the immediate riverine area impacted by 2008/2009 Bolo oil spill is in Bolo territory. WE WANT BOLO CLEAN UP NOW Furthermore the legal adviser to Bolo Community Barr. Mela Oforibika reiterated that the Patrick Tekuru waterside on the eastern bank of the Bodo Creek which flows into the Andoni River and forms an intersection with the Bodo Creek is the natural boundary between Bodo in Gokana Local Government Area and Ogu/Bolo Local Government Area.
All the Creeks, Islands, Swamps and territories located west of the Bodo Creek are in Bolo Community in Ogu/Bolo Local Government Area and the oil fields at Aseminingolaka and Sunday Kin are given the technical name 'BODO WEST" by shell. It is the most heavily impacted area by the 2008/2009 oil spills. It is not in Ogoni Land.
President Buhari you are most welcome to Tekuru waterside for the UNEP Ogoni Land clean up. Kindly lift your gaze across the Bodo Creek to see that the neighbours, Bolo Community in Ogu/Bolo Local Government Area also need urgent compensation and clean up/remediation.
The protest was greeted by a mammoth crowd in Bolo Community led by the Chairman of Bolo Se Council of Chiefs, Chief Eli Amamina Afisoka, including Chiefs, Elders, Community Leaders, Youths, Students, Women and other stakeholders.