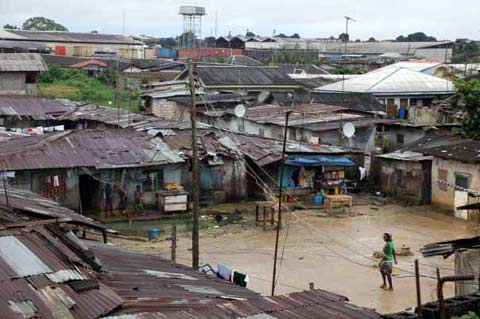 Obidianso Demolition Rendered 500 Residents Homeless
Children, elderly and vulnerable persons escaped gunshots of security operatives, following a Magistrate court order asking residents of Obidianso Waterfront to vacate for the owners of the land, Orusa family of Oroworukwo.
Some residents who pleaded anonymity alleged that the said land owners came with armed policemen without proper means of notifying them, adding that most innocent children, elderly and vulnerable persons suddenly escaped to an unknown destination due to sporadic gunshots by the police who escorted the Orusa family to reclaim their premises, urging that the Magistrate court's judgment has been appealed.
Our correspondent gathered that more than five hundred (500) residents and one hundred (100) houses were in early July sacked amidst heavy damp by the Orusa family according to a Magistrate Court order. According to our correspondent, Orusa obtained judgment in May 2018, Monday 16 was the enforcement of court order and directive and Thursday 19, May 2018 was the end of a four day notice to claim ownership of the said premises.
Meanwhile, the Nigerian Police, Rivers State Command, through its image maker (DSP) Omoni Nnamdi has debunked the allegation that the police shot sporadically. Omoni maintained that the police only went there for security purpose adding that the sacked residents were merely raising false allegations.
However, the outcry of the displaced residents attracted the sympathy of the general public, including Justice and Empowerment Initiative (JEI) and Community Media Advocacy Platform (CMAP).
The spokesperson of JEI who pleaded anonymity said he has not officially seen the order of the court proceedings that led to the sacking of the community, what the order stands for, as community's residents still have right to reorganize themselves.
Meanwhile, the spokes person of CMAP Fubara Tukuopuye stressed that they saw the demolition, spoke with both parties, police and government officials but maintained that he would not reveal their next line of action until the management takes a conclusive decision. ###
Bennett James