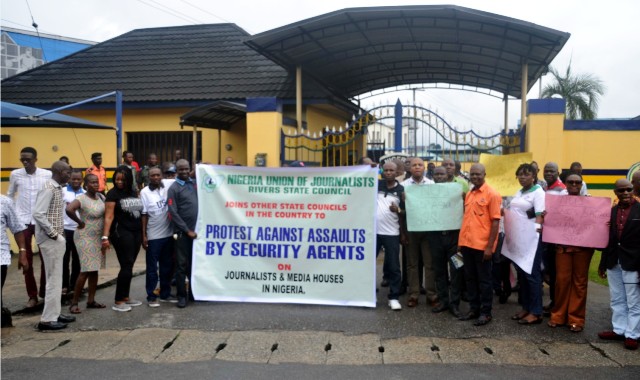 Journalists Protest Without Police Protection, Suspend Members
Members of the Nigeria Union of Journalists (NUJ) Rivers Council, on Thursday 30, August 2018 took to the major roads of Port Harcourt, Nigeria Police premises (Rivers State Command) and the office of Director of State Security (DSS) to register their complaint over the incessant harassment, assault, arrest and killing of their colleagues and other media practitioners by security operatives and bandits across the country.
At the Rivers State Police Command, the state chairman of NUJ, Mr. Stanley Job Stanley told the police that they were in a peaceful protest to inform the police, other security operatives and the public about the harassment, assault, arrest and killing of journalists in the course of carrying out their legitimate duties.
According to the chairman, "The protest is across the country. It is a national protest and the police is not exempted from what we are saying. Our members in course of doing their job have been arrested, harassed, intimidated and assaulted at different fora, adding that in Rivers State, Mr. Martin Giadom was beaten up, his vehicle burnt, Samuel Ogundigbe was detained without trial and Mr. Adeye was also arrested and detained for two years without trial.
Stanley Job further maintained that the NUJ has looked at several ill-treatment meted at them and decided to embark on a nationwide peaceful protest inorder to draw the attention of the society and those behind the act to put a stop to it.
Responding, the Deputy Commissioner of Police (DCP) (Admin), Cyril Okoro who represented the Rivers State Commissioner of Police, Hakmid Zaki commended the journalists for a peaceful protest, saying that Rivers State Police Command is press friendly, assuring the journalists that their message will be reported to the headquarters without delay.
Meanwhile, the chairperson, Nigeria Association of Women Journalists (NAWOJ), Chief Lillian Okonkwo advised that journalists should be allowed to work within the ethics of their job and should not be treated badly and be security conscious.
Our correspondent gathered that the protesting journalists also visited DSS premises but of the officials of DSS took the chairman, Stanley Job and the secretary, Ike Wigodo into their office for briefing, adding that some of the placards carried by the journalists were written: "DSS allow journalists to do their jobs, assault and attacks on journalists must stop, security agents should stop harassing pressmen", amongst others.
In a related event, eight (8) members of the Radio Rivers chapter of NUJ are to face the ethics and disciplinary committee in the purported suspension of the state council chairman, Stanley Job Stanley by the Radio Rivers chapel and another six (6) members of The Tide, Rivers State Television (RSTV), Radio Rivers amongst other are on suspension.
A statement made available to The Newswriter by the secretary of NUJ, Mr. Ike Wigodo has it that they were involved in unethical conducts. The said members are yet to brief this medium as our correspondent sent a text message to them to hear their part. ###
Bennett James