Chief Jackson Nonju, a warrant chief of Kirikese Kingdom, has declared that Boko Haram was forward to make the nation ungovernable and thereby rubbishing the south-south.
The Chief stated this in an interview he granted The Newswriter on Thursday September 22, 2011.
He said it was to distract the attention of President Goodluck Jonathan who is from the south-south and make it appear as if he is incapable of governing the nation.
"The way things are, he has been placed in a position where he can not be focused. With bomb blasts here and there by Boko Haram, it is enough to cause him sleepless nights", declared Chief Nonju"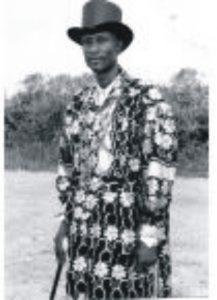 Chief Nonju, alias Odu-Agu, Piriyanbo I, (king of the forest), Chief and Head of Nonjuwariboko War Canoe House, the warrant Chief of Kirike-se kingdom, said president Jonathan had good plans for the nation, but could not fulfill them within the first 100days of his tenure because of the menace of Boko Haram and that he had to shift his attention to check them, as "no one whose house is on fire will focus his attention elsewhere".
"Sometimes I blame the government, the army chiefs, the Inspector General of Police. Are they saying that there is no security in the country? How can one group turn the entire country upside down? Chief Odu-Agu fumed.
He said the security chiefs should all be changed as they have proved to be incompetent
"They know the people, the leaders of Boko Haram are known. They should arrest them and their sponsors." chief Nonju added.
The warrant chief stated that when militants in Niger Delta were active, their kings were arrested, their houses turned to army camps.
Giving example of what befell King (Capt) Nemi Tamuno Iyalla Oputibeya, Amanyanabo of Koniju town, Okrika, the chief said emirs in the north should be arrested and their houses used as JTF quarters, now that Boko Haram is active in the north.
"The security agents are not competent, whatever Boko Haram does, the security agents know, but they are not arrested just to rubbish President Jonathan's government. Jonathan is civil and God fearing and loves humanity. He is not like other rulers who were harsh. He does his things democratically.
"We have never heard of Boko Haram before. It is just to rubbish the south-south. When President Umar Yar'Adua was sick there was no Boko Haram, only now that it has come to us. Leadership is not for one person alone, but if they are making it that way, well.
"The nation is getting close to splitting. Boko Haram has shown us the need to break up. They believe leadership is their birthright. If a northerner is ruling, every northerner will rise up. They started the problem when president Jonathan won the elections. They should not push him to the wall.
"King Oputibeya was arrested because of problems of militants in Niger Delta, kept in prison custody for months, from Port Harcourt court to Elele, Ebonyi State, and when they released him the king never lasted for six months. Till now that I am telling you, his house in Okochiri is occupied by soldiers. The JTF occupies his house, a house that he has not even packed into. That is why I ask, now that Boko Haram, has started, have they arrested the sultan? Did they seize his house for soldiers? So you can see that they are punishing us. Till tomorrow, we say the government has a hand in the death of our king. It is only our king that they arrested, now that bombs are blasting, none is arrested."
On the second coming of Governor Rotimi Amaechi, chief Nonju, said if it were to go by his campaign promises, everywhere would have been cities, but that no work is going on now. He said it is the usual thing for governors and presidents to say their second coming would be to complete projects, but once they win, nothing happens.
Chief Nonju said the old Okrika bridge should have been given priority in terms of contract as it has been blocked and declared unsafe, adding that he said so because the first lady, Dame Patience Jonathan who is from Okrika and other prominent Okrika sons and daughters helped the Peoples Democratic party, PDP, to win, despite having their son in the race.
On development in Okrika, the chief said the local government chairman, Hon. Tamuno Williams has done nothing tangible and that he started his tenure with quarrels with his executives.
He said there are no roads, no water, no light and that the new towns, Oba, Kalio, Abam, George, Daka, Okochiri, Dumo Ama and others, needed Roads.
Ogoloma town too, he added, has no road apart from the new ring road, as the main road from St. Peter's Church to Ogoloma is dilapidated.
He said the Walga boss only carried out seminars with pupils during the holiday period, adding that he should give scholarships. ####