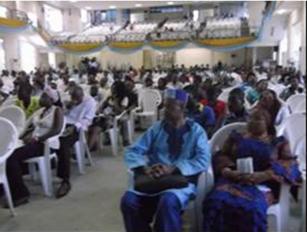 Eckankar, Religion of the Light and Sound of God, held an ECK Area Seminar from May 25 – 27, 2012, at the Temple of ECK, Rumuigbo, Port Harcourt.
The theme of the seminar sponsored by Eckanakar Rivers East Area, was "Graceful Living: God's Love in Expression," with Dayo Jikieme, Vice President of Eckankar Nigeria, as the Guest Speaker.
Delivering the theme talk, Mr. Jikieme said acting gracefully means doing things creatively in a refined way, being harmonious, with every other person benefiting from it.
He said every individual is here on earth as a wonderful vehicle "to disseminate the energies of God to all of life, wherever you are stationed. So all we do is to soak up that energy, that divine essence and express it to life."
"Graceful living is absorbing the abundance from God and expressing it, giving it to life. So you take and you give. The more you take it, the more you are expected to give. The more you give, the more you are given to give. So the more you express, the better you become. This is the design of life which so many are not aware of. Give to life and life will abundantly enrich you," he went on to say.
He said all must develop skills, be refined, cultivate the necessary discipline, and live in harmony with all the laws as much as possible to get to a level where grace would flow through you ceaselessly.
Addressing over 600 attendees, Dayo Jikieme said "Mastership is all about learning how to use less and less energy to achieve more and more in life. It is important to understand the laws with which God is governing all the planes and it is important for you to have the discipline to live in conformity with all these laws.
"People want to run away from hardships. Gracefulness is learning how to manage hardships, how to manage hard situations. It is not how to run away from it, but how to get contentment, how to get the relevant skills, the wisdom to tackle whatever situation you find yourself when you get to it. It determines to a great extent how gracefully you handle situations."
The guest speaker said no one is tasked beyond his capability and that God gives information one way or the other before a problem would occur, adding that only those who could listen, are contented, calm and peaceful, would catch the message while angry and anxious people fail to handle situations gracefully.
Jikieme said it was imperative to love oneself and to love life because "if you are not happy with yourself, you have not started the ABC of spirituality. First and foremost, accept yourself for what you are. Love yourself, count your blessings. In life you must formulate strategies make plans. It is difficult to be graceful without being creative. Creativity is part of God's love in expression. Anyone who is living gracefully is someone who is inwardly guided. You are in harmony with all life around you".
He said life is meant to be joyful and that though you may have problems, you would be given the relevant tools to solve them, adding, "People of high spirituality, when they encounter problems, they don't get depressed. They swing into action. Graceful living is learning how to manage hardship, how to manage problems, how to have contentment, how to be creative in the face of hardship, know how to plot, sit down, make the relevant plans. Surrender it to the Master, follow up with relevant actions, see the results and have contentment in whatever happens, because you must know how to surrender".
The guest speaker concluded by saying, "love yourself, love life all around you. Be interested in your Spiritual Exercises. Be interested in linking up with the Mahanta, the living ECK Master and his team. As much as possible, do your best to be creative. Learn detachment; be contented with what you have. Make others around you happy. The more people you make happy around you, the more your life will become joyous".
Other talks given by several speakers include, The Dream Master: Your Eternal Guide, The Call To A Life of Joy And Wonder, Family Forum The Joy of Having Mahanta in our Family, Cultivating Spiritual Grace in Daily Life and Opening Your Heart To God's Love.
A sub-theme titled "Souls Mission in Life," was also given in the seminar, including workshops.
Songs, poems and drama presentations thrilled the audience throughout the duration of the seminar.
KENNETH AMABIPI