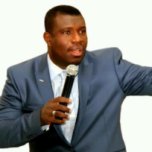 Dateline: Sunday 14th October 2012 at a combine service of the Royal House of Grace Church International Church, Port Harcourt the Prince of Preachers, Apostle Prince David Zilly Aggrey, in his eloquent and charismatic best recalling the utterances of the Shunammite's Woman in the face of the death of her son (see 2 King 4:22-37) declared under strong unction of the Holy Spirit, concerning the flood disaster that has ravaged and submerged a lot of cities and villages in about 22 States of the Federal Republic of Nigeria that "it is well" and that Nigeria and Nigerians shall overcome this trying times.
Apostle Zilly Aggrey, the double Rivers State Chairman of Christian Association of Nigeria and Pentecostal Fellowship of Nigeria and a Member, Federal Government delegation for 2012 Christian Pilgrimage to the Holy Land regaled the audience which include Senior Ministers from different Churches, delegations of Ministers from Ogba/Egbema/Ndoni area of Rivers State that is worst hit by the flood disaster in Rivers State with prophetic declarations and prayers for President Jonathan Goodluck, Governor Dr. Emmanuel Uduaghan of Delta State, Governor Rotimi Amaechi of Rivers State, Governor Sirake Dickson of Bayelsa State, Governor Peter Obi of Anambra State, the Dangote/Mike Adenuga Flood Relief Fund Raising Committee, National Emergency Management Agency among others that it shall be well with Nigeria and these period of disaster shall bring out the best of Nigeria in all fields of human endeavor. He emphatically said that Nigeria under God will overcome current flood challenge and will witness a healthy, prosperous nation with peace and unity among all ethnic divides.
With a bleeding pastoral heart he recalled what he saw in some of the places he and his team has been console and share relief materials of his efforts and that of his Church, the Royal House of Grace International Church to some victims of the flood disaster. Again he lamented his inability to secure helicopter to take him to some of the areas in Bayelsa State that are no longer motorable except by helicopter because of paucity of funds. Demonstrating some of what he saw, a member of the team, Mr. Dagogo Noble Pepple (MNISP), a Safety professional spoke and illustrated on: Disaster Management & Evacuation – What to do when it happens.