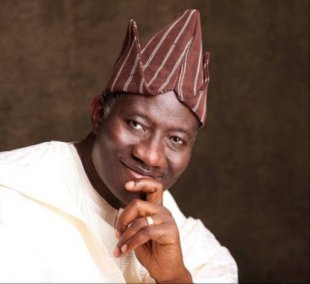 A cold war brewing between President Goodluck Jonathan and Vice President Namadi Sambo came out in the open last weekend as the two political figures attended two different events with their political allies. Mr. Jonathan was in Yenagoa, the capital of Bayelsa State, to bury his brother, Meni, while Vice President Sambo was in Kaduna to give his two daughters, Aisha and Huwaila, out in marriage.
A top official of the Peoples Democratic Party revealed that many members of the party were baffled that the president fixed the burial of his brother on the same day that his vice president had set for his two daughters' marriage.The Newswriter learnt that Mr. Sambo's daughters' wedding had been scheduled months ago. "The president knew about the wedding and received his invitation long before his brother died on November 20," said our source, adding that First Lady Patience Jonathan had been tapped to be "Mother of the Day" at the nuptials.
Several sources disclosed that the relationship between the President and the Vice President started to deteriorate when Sambo received reliable indications that Mr. Jonathan was determined to run for another term in office. The prospect of the president's going for a second term has alarmed Northern political figures, among them the vice president, who had been calculating ways of retaking Nigeria's highest political office.
"We know that some northern elders have been putting pressure on Vice President Sambo to position himself to challenge the president," said a source close to Mr. Jonathan.
Other sources in Aso Rock told us that President Jonathan was well aware that Mr. Sambo is exploring options for running for the presidency in 2015. "He has been trying to raise his profile and rally political heavyweights and operatives to his corner," said a Jonathan associate. The source accused the VP of "trying to flex his political muscles, but he should know that, even if Mr. President decides not to run, he [the president] will still have a say in who succeeds him."
One of Mr. Jonathan's men said that they came close to declaring war "after Vice President Sambo selected a powerful delegation and went with them to pay a condolence visit to Gen. Muhammadu Buhari on the loss of his daughter."
A political observer described the scenes in Yenagoa and Kaduna last weekend as resembling "a realignment of political forces around President Jonathan and Vice President Sambo." Those who mourned with Mr. Jonathan in Yenagoa included Senate President David Mark, who also has presidential ambitions, as well as numerous Nollywood players. On the other hand, such personalities as Ibrahim Badamasi Babangida, Muhammadu Buhari and several Northern political figures, traditional rulers and business executives attended the vice president's more festive event.
A source close to the vice president disclosed that Mr. Jonathan was in a precarious position. "He is waging an ongoing political war against [former President Olusegun] Obasanjo," said the source.
A confidant of President Jonathan's admitted that members of the president's camp were angry at Mr. Obasanjo for trying to remotely control the ruling party long after his exit from power. The Peoples Democratic Party recently stated that there was no plan to reconcile the president and Mr. Obasanjo.
On his part, Mr. Obasanjo has said in private and public forums that President Jonathan is bound to leave in 2015. The former president's statement is at odds with Aso Rocks' strategy of leaving Mr. Jonathan's opponents guessing as to his next plans.