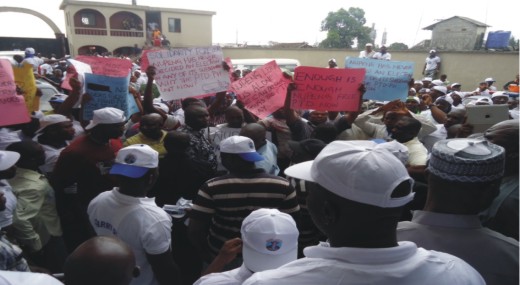 Members of Petroleum Tanker Drivers (PTD),Port Harcourt Refinery Unit, have vowed not to succumb to attempts by the leadership of the National Union of Petroleum and Natural Gas (NUPENG),headed by its National President, Comrd. Achese Igwe to impose    unpopular candidate on the union, describing it as dangerous and capable of breeding bad blood among the PTD members. Speaking to newsmen during a protest march carried out by PTD members to air their grievances, some of the aggrieved members of the union numbering about 1000 condemned the act and called on the Rivers State Government to intervene in the matter.
First to speak was Comrd. Joseph Effiong who said the act of interference by  NUPENG into local election of PTD was unacceptable and should be condemned by all. Effiong regretted that the attitude of NUPENG's President has stalled their election formerly slated for 18th February,2013 till date, a development he viewed as very disturbing and requires urgent attention.
Also speaking, Comrd. Festus Obioji, one time chairman of PTD said from the inception of PTD, Port Harcourt Refinery, NUPENG or any other union has never interfered with the  local chapter election of PTD. He said he now wondered why the current President, Igwe decided to impose candidate on PTD. He warned that if the problem was not resolved fast, PTD may be forced to consider other options, which may  include embarking on strike. Comrd Silas Emenalu also corroborated the position of the others and called on petroleum tanker drivers not to succumb to NUPENG's intimidation.
When The Newswriter contacted the current chairman of PTD at the unit, Chief John Amajuoyi,he said  he came to office that day only to find tanker drivers  numbering over 1000 protesting against the overbearing influence of NUPENG on PTD. He said he has told his members to remain calm, bearing in mind that whatever is hot must get cold. For NUPENG, Comrd Amajuoyi said he  has  advised  them to allow PTD  conduct its election. The protesters were seen brandishing placards with several inscriptions such as,  'Unacceptable, NUPENG can't impose anybody on PTD,'NUPENG has never decided an election for  us,' NUPENG leave us alone' and 'Rivers State Govt comot our hand on PTD election', among others.
Our Correspondent who monitored the protest, reported that over 2000 aggrieved tanker drivers took part in the rally  that lasted more than three hours. ##
Barth Ndu