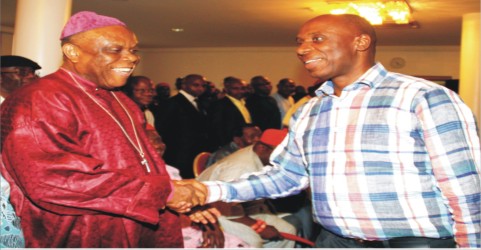 As the 2015 political dispensation gradually sets in, a group known as the International Integrity Bishops College said it has commenced intercessory prayers for Gov. Chibuike Amaechi and other political office holders in Rivers State and Nigeria in general to ensure peace during the 2015 elections.
The Founder of the College, which is an offshoot of the Integrity Bishops and Faithful Ministers Network, Worldwide, Bishop Dr. Friday Nwator in an exclusive interview with The Newswriter said the group has intensified prayers for Gov. Amaechi and other political office holders in the country to ensure peace and unity as the 2015 political period gathers momentum.
Bishop Nwator charged everybody in Rivers State to pray for the governor at least 5 minutes everyday, saying that this will go a long way to bringing the deserved peace in the state.
Nwator who is also the founder of Nigerian House of Peace Ministries, Port Harcourt, told The Newswriter that the International Integrity Bishops College has concluded plans to hold a  2 day prayer conference slated for 17th and 18th of April, 2013 to pray for Nigeria, expressing confidence that God will hear them.
  The bishop also appealed to the commissioners serving in Rivers State to re-double their efforts in ensuring that dividend of democracy is delivered to the people. He was of the opinion that this will lessen the stress of the governor, as he pilots the affairs of the state.
Also adding his voice to the matter, Rev. Barr. Ben Ndubueze, a member of the Integrity College said the institution has set up the prayer conference to intercede for Nigeria, assuring that God has always answered them.
According to him, Problems that have proved difficult to man had always been solved by God. Rev. Ndubueze corroborated the position of Bishop Nwator that all hands must be on deck in praying for Gov. Amaechi and his cabinet for the peace and unity of the country. ###
Barth Ndu