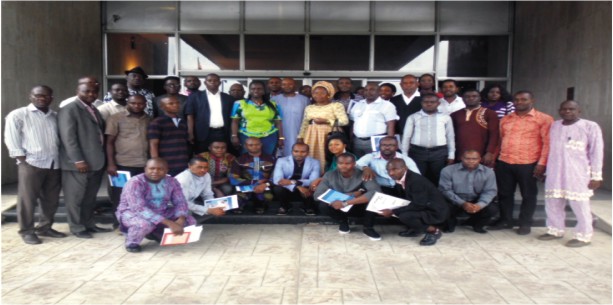 The Nigeria Hotel Association Rivers State branch under the leadership of Mr. Eugene Nwuzi has begged the Rivers State Head of Service, through the Executive Chairman of Rivers State Internal Revenue Service, (RIRS) Mrs. Onene Osile Obele-Oshoko, to respond to their request on the job description of the state Ministries of Health and Environment.
Nwuzi who made the plea at a one day meeting of the association and the Rivers State Internal Revenue Service held at Hotel Presidential, Port Harcourt, said that his members have been passing through difficulties in their respective places of work, as regards the issue of job duplication on water Analysis among others, by the state Ministries of Health and Environment.
The Association boss also lamented on the high level of double taxation that are being experienced by his members across the LGAs of the state, particularly in Obio/Akpor LGA. He frowned at the level of intimidation and harassment that hotel owners and operators are facing day by day in the hands of some revenue collectors operating in the state and LGAs, accompanied by some armed police officials.
The duo of Chief Felix O. Felix, Secretary, NHA and Mr. Brown Elvis Igochuku were among NHA members who narrated their day to day ordeal in the hands of the so many revenue collectors that are operating in the state, pointing out that the collectors usually come in batches on same purpose, making demands of over 1million naira per annum, irrespective of the number of rooms of a particular hotel. They expressed their gratitude to Mrs. Obele-Oshoko for the opportunity to interact and hear from her.
Responding shortly on a presentation made by Dame Eunice Odum, Head, Information Sector, Rivers State Board of Internal Revenue Service, titled: "Revenue For Public Expenditure", which highlighted on the types and features in taxes, rights and obligations of tax payers, Mrs. Obele-Oshoko, stated that environmental and property taxes among others are collected by the state government as enshrined in the law.
She admitted that most of the activities of the tax collectors are not backed by law and the need for people to be careful in dealing with whoever that comes to them, adding that her staff do not fight with people, but only issue demand notice to them.
Obele-Oshoko, however advised those that may have received a demand notice from them after making a payment to ignore such, but always present their proof of payment on demand.
On the complaints that were made by the Hotel Association, IRS boss assured that she would do her best to address some of the issues, especially those that are within her powers, and enjoined Rivers Tax Payers not to give any cash or cheque to anyone in the name of revenue collection, but to go to their designated banks in the state and make their payments.