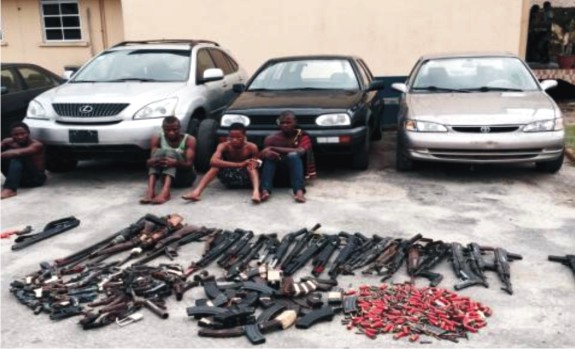 The Rivers State Police Command said it has arrested a good number of suspected criminals in its efforts to flush out criminality in the state.
The suspected hoodlums were said to have been arrested while carrying out their routine raids on criminal hideouts in some parts of the state.
Police Public Relations Officer, PPRO, Ahmad Mohammad in a press release stated that police onslaught on the criminals led to the recovery of a cache of dangerous fire arms.
Mohammad noted that their raids were concentrated on Port Harcourt, Eleme and Obio-Akpor where criminals mostly operate.
"Our sustained onslaught on violent criminals and recovery of firearms in illegal hands in recent times in the State have continued to yield some significant triumphs. Our vow to dislodge criminals from their safe havens is not a bluff but a reality that has come to stay until their activities are brought total end.
"On 19/06/2015, at about 12:00pm, at Abuloma in Port Harcourt, on a tip off, credible joint team of policemen raided a water front suspected to be hideout of a notorious and wanted suspected kidnapper/cultist. Items recovered from the enclave include two AK 47 rifles, five AK 47 magazines, 152 rounds of 7.62 live ammunition and other assorted household items suspected to be stolen.
"On 21/06/2015 at about 5:40am men of Anti-Cultism Unit on information stormed Rumuekini forest and arrested 69 suspected cultists/robbers while two of them got fatally wounded. Items recovered from them two pump action guns, nine live cartridges, a Toyota Camry and assorted household items suspected to be stolen.
"On 21/06/2015 at about 10:45am at Akpajo special checkpoint, Port Harcourt, a Mazda car with some occupants that appeared suspicious refused to stop for checking, policemen gave the men a hot chase, sensing our men would catch up with them, they jumped and fled abandoning the vehicle. Items recovered from the abandoned car include two AK 47 rifles and 20 rounds of 7.62 live ammunition.
"On 22/06/2015, at about 2:00pm, at Borikiri, sand fill men of Anti-Cultism Unit on information tracked and arrested six suspects who specialised in car snatching. The gang few days ago snatched at gunpoint a Toyota Camry- No. KFS 657 CN. The said car along with other three suspected stolen vehicles of different made were recovered from the gang hide out.
"On 25/06/2015 at about 4:10pm, at Ogale-Nchia, Eleme, Anti-Robbery Unit of Eleme Division on while responding to distress call, engaged suspected armed robbers on action. Two of the suspected armed robbers, one of which was wearing military camouflage trouser got fatally wounded. Item recovered from them include one pump action guns, one locally made pistol, 15 live cartridges, one red mask and assorted charms.
"There are other successes recorded besides the aforementioned. The continued support of the patriotic members of the public by way of divulging credible information to the police is hereby appreciated as we are looking for more in this regard," the statement says.