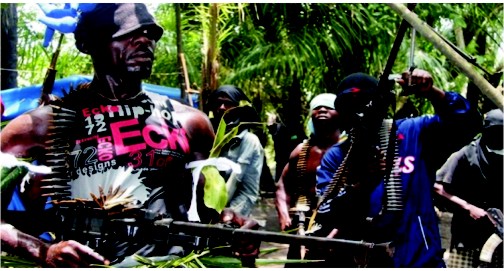 Niger Deltans under the auspices of dreaded militant group known as Adaka Boro Avengers (ABA) have vowed that no power would stop them from declaring the Niger Delta Republic on August 1, 2016.
This was contained in a statement signed by the spokesman of the group, General Edmos Ayayeibo, the ABA disclosed that it has concluded arrangements to make the Niger Delta Republic a reality. The group had ordered its people to return home and told northerners and Westerners to leave the region and eastern states immediately.
The militants also issued a quit notice to the military and all federal agencies to evacuate the Niger Delta states, adding that failure to comply with the directive, blood will flow.
The statement reads in part: "We are also by this notice calling on our fathers, mothers, brothers and sisters living in the northern parts to return home immediately".
They decried the high rate of poverty in the region despite its contributions to the national growth, pointing out that enough is enough.
"We are not afraid of the Nigerian government, but ready for total war. The inhuman treatment given to us by Nigerian government is enough. We can no longer withstand the suffering of our Niger Delta people. They should not take us for fools", ABA asserted.
In a related development, the Niger Delta Avengers, NDA through its spokesperson, Col. Mudoch Agbinibo disclosed that by October, 2016, the NDA will launch Niger Delta currencies, flag, passport and ruling council.
Meanwhile, a group, the Centre for Peace and Environmental Justice, CEPEJ, on Tuesday urged the militant group, Adaka Boro Avengers, ABA, to give peace a chance, stressing that no indigene of the region will support the threat of the militants to declare Niger Delta a republic by August 1.
Recall that ABA had in a statement threatened the unity of Nigeria, saying the Niger Delta region will be declared a republic come August 1.
Reacting to ABA's threat, the coordinator of CEPEJ, Sheriff Mulade, in a statement he issued in Warri, Delta State, urged the group to embrace the peace talk initiated by the Federal Government.
According to the group, "ABA should give peace a chance and take advantage of the federal government dialogue because no meaningful development can take place in a rancorous environment.
"Adaka Boro Avengers should abort their alleged plan to declare Niger -Delta Republic on August 1 because Niger Deltans do not support it.
"We know successive governments neglected, deprived and underdeveloped the region in spite of her huge contributions to the national economy.
"But what we needed now is constructive engagement with the federal government since President Buhari has considered dialogue as the best option to engage the stakeholders and find a lasting solution to the lingering quest for development towards ending militancy." ‎###