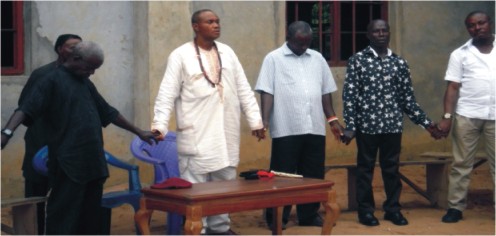 Stakeholders in Uworie Agwa Autonomous Community, Oguta LGA, Imo State, have commended the executive governor of the state, Chief Anayo Owelle Rochas Okorocha for the peace that is gradually returning to most communities of the state, as a result of filling the gaps in some traditional stools in the state by the governor.
The stakeholders who gave the commendation at a recent event in their community to celebrate the induction ceremony of their paramount ruler, HRH Eze Dr. Albanus Ozuruoha, Eze Chinyereugo 1 of Uworie- Agwa Autonomous Community, to the Oguta LGA Council of Traditional Rulers, Imo State, also lauded the traditional ruler for his resolve to ensure peace and stability in the ancient kingdom.
Speaking at the event, Hon. Maximian Okedu, PDP chairman, Oguta LGA, described the emergence of Eze Ozuruoha as a divine intervention, pointing out that Ozuruoha was the President General of the community, when the people were plunged into crisis in 2008, consequent to the discovery of Oil in the area in 2007.
He noted that the choice of Ozuruoha as approved by the state governor, through the presentation of Staff of Office and Certificate of Recognition to take over the reign of the ancient kingdom, after the death of HRH Eze Ejimaduekwu Ifi, Ogbuehi 1 of old Uworie-Agwa Autonomous Community Ancient Kingdom, which then, comprised of Mbano and Umuofeke Autonomous Communities, respectively, was to correct some of the mistakes that led to the communal crisis.
Hon. Okedu, who supported the community constitution to rotate the traditional stool among the 6 kindreds of the community, added that it was the best option for the people and above all, will restore peace, stability and fair sharing, since the stool was originally contested for, during the administration of late Chief Sam Onunaka Mbakwe.
In the same vein, Engr, Anthony Ahamefule, the chairman of Umukpo Peace Intervention League UPIL, a body made up of politicians, engineers, accountants, academicians, business men, security agents, media practitioners among others from the community, used the medium to call on parents to call their children, particularly the youths to order and to desist from any act of violence or insubordination that may lead to another unwanted crisis in the community.
Ahamefule thanked the people of Umukpo-Uworie for their unflinching support to Eze Chinyereugo 1, the new king of the kingdom and urged Ozuruoha to continue in his quest to carry everyone in the community along.
It would be recalled that HRH Eze Ozuruoha, had in his maiden address to the people of his community shortly after the receipt of Staff of Office and Certificate of Recognition from the state government, promised to empower women and youths, address the developmental opportunities that have eluded the people of Uworie since January, 2008 when the crisis began, while appreciating the state governor, His Excellence Rochas Okorocha, whose administration has brought the people back to their deserted home after close to 4 years on exile, he added.