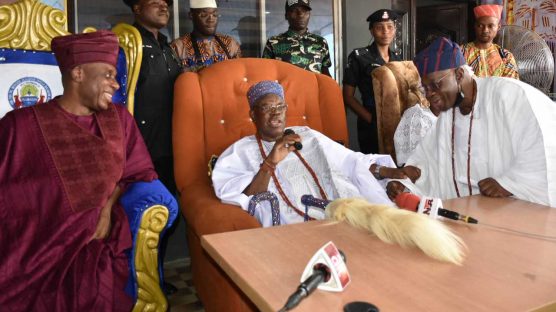 Minister of Transportation and APC presidential aspirant, Rotimi Amaechi (left); Olubadan of Ibadanland, Oba Lekan Balogun and Senator representing Oyo South, Kola Balogun during the minister's visit to Olubadan's palace in Ibadan.
A presidential aspirant and Minister of Transportation, Chibuke Amaechi, yesterday, said he is not Igbo, Kalabari, Hausa/Fulani or Yoruba candidate but a pan-Nigeria candidate in next year's poll.
Amaechi stated this during a visit to the Olubadan of Ibadanland, Oba Lekan Balogun, Alli Okunmade II, at his Alarere residence, Ibadan.
The minister, in his short address, said he does not belong to any geo-political bloc as far as his presidential ambition is concerned, adding: ''I'm not Hausa/Fulani candidate, I'm not Yoruba candidate, I'm not Igbo candidate and I'm not even the Kalabari candidate, but a Nigeria candidate.
"As said by a member of my team, I come with experience having been two terms Speaker before becoming the state governor for two terms during which I also served as the Chairman of the Governors' Forum, also for two terms."
Amaechi, who stated that he turned things around in Rivers State while governing the place and made it a safe haven for both people and businesses, said he succeeded by creating alternative to criminality.
He promised that a station would be named after an Ibadan indigene but would not be within Ibadan railway corridor.
The minister also promised that the final approval for the commencement of the project would be sought and got from the Federal Executive Council (FEC) before the end of May this year, a promise that drew wild applause.
Responding, the Olubadan lauded the minister's detribalised nature and said that with people like him, Nigeria would be a better country.
Oba Balogun, who said that Amaechi shared the same attribute with him on oneness of Nigeria, harped on the unity of the country, stressing that irrespective of language, tribe or religion, we are all brothers and sisters.
IN the same vein, the immediate past President of the Senate, Bukola Saraki, has assured Nigerians that he would proffer lasting solutions to the economic and social problems in the country.
He spoke at the weekend at the party's state secretariat in Akure, Ondo State.
Saraki, who stated that he is the right person to become the next President under the Peoples Democratic Party (PDP), urged Nigerians to elect a president that could turn round the nation's economy, saying: "The 2023 general election should be a turning-point for the nation by electing someone who understands the country, economy and is respected in the global business circle."