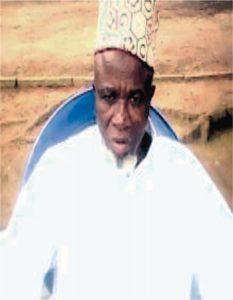 Allanso Jonathan Allanso
Baba Ajawa Spiritual and Healing Home had come out to stamp out all forms of diseases and sickness whether spiritual or physical.
Speaking to The Newswriter over the weekend, the experienced Herbal Practitioner, disclosed that he has helped many souls to be alive and is still ready to deliver many by God's grace from the hand of pains and enemies.
Baba Ajawa who is currently participating in the on-going Herbal trade fair inIsaacBoroParkin stand 10, stated that there is no one that has sought for his help and did not find it. He has lost count of the homes and souls he has delivered from spiritual enemies and diseases since he took over the trade from his father.
Baba Ajawa said he is not God but he works with God and that it is the more reason diseases and sickness bow to his efficiency. He therefore assured residents ofPort Harcourtand its environs to bring their problems to him and they will go home singing once again.
Baba Ajawa, takes care  of small organ, impotency, bad dreams (both spiritual and physical) Tuberculosis, asthma, convulsion, noisy stomach, itching and discharge, prostrate, epilepsy, constant miscarriage, low sperm count, waist pain and back pain.
Others are rheumatism and arthritis, ovulation problem, diabetes cum hypertension, internal poison, prevention from evil spirit attack, typhoid and acute malaria parasite, gonorrhea/ecoli, syphilis/ulcer, movement of object in the body, tubal blockage, menstrual problem, weak erection, quick ejaculation, staphylococcus aureus and infertility in both men and women.
The 70 years old experienced Herbal traditional medicine practitioner said as a man working with God, he is assuring the public to come with their problems to him as God will solve them through him.
Baba Ajawa Spiritual and Healing Home could be visited at the on-going Herbal traditional medicine trade fair at Isaac Boro Park, stand 10, or call his numbers  08053066793 0r 0703536491. ####