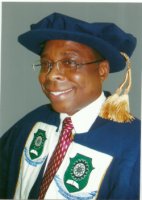 Guess who we have this week as our Sports Personality of the Week? He is a public cum God's servant, a university refined, head of the Rivers State owned university.
Though he might not be active sports personality when he was much younger in his school days, there is one unique attribute that ensured his appearance in this column.
He is a sports promoter in the higher institution where he pilots the affairs of the school like a father. He is slow to anger but never spared the rod just for the best interest of the future of tomorrow's leaders (the students).
He is charismatic, dutiful, diligent, God fearing as a pastor, focused, disciplined, purposeful, tender, caring, loving and level headed.
Sports loving people, this man had lifted the state owned university to an enviable position in the comity of Nigerian universities.
A proud son of Rivers State, from the resilient local government area of Khana, no wonder the governor of the state saw the sterling fatherly qualities in him and bestowed on him the responsibility of bringing the good image of the school back.
And for his successful attitude of supporting the school sports team in all Nigerian University games, which had never been so possible before he took over the mantle of leadership of the school, he merits our sports personality of The Newswriter sports personality column.
Sports loving people, please join me to welcome Prof. Barineme B Fakae of Rivers State University of Science and technology, Port Harcourt, as The Newswriter sports promoter of the week.
Name: Prof. Barineme. B. Fakae
Age: Adult
Home Town: Kabangha
LGA: Khana
State: Rivers
Designation: V.C RSUST
Position: Sponsorer of RSUST sports team
Favourite Sport: Soccer
Favourtite Jersey No: 8
Aspiration: To affect society positively with the best, otherwise referred to as a perfectionist
Role Model: Jesus Christ
Turn On: Like people who exult God with praise, honesty and transparency.
Turn Off: Laziness, dirty environment
Occupation: Public Servant
Achievements: Lifted RSUST in the Nigerian university games. Since he came to the school in 2007, RSUST has been appearing without fail with impressive records. Also appeared in WAUG.
GMS: 08036721807
The Messiah for RSUST is what Prof. B.B Fakae should be best described. He came, he saw and he is conquering. RSUST was nowhere when he came. The good thing about Prof. Fakae, when people are fighting him he bothers not, but goes on focused, doing the good works he believed in doing. Suffice me to say at this point that he had lifted the face of RSUST, hence the governor of the state sticks to him as his personal messiah candidate to rescue RSUST, and today the result is glaring for every Tom, Dick and Harry.
When the school was even on strike, Prof. B.B Fakae with his personal efforts mobilized the school sports team to feature in Benin NUGA games, even in Nsukka, because of his love for RSUST. He is one God's servant that had demonstrated fatherly love to the students in expressing love to humanity. He is so humble and moves with the heart of gold. Call him a perfectionist and you will not be wrong. For his doggedness, doing only good things, the negative people had tried all what they could to tarnish his image, yet to no avail because he surpasses them with his glaring positive creative mind with good disposition.
Sir, we may not have captured the true person you are completely, but suffice The Newswriter sports desk to only pray for you to live long enough to enjoy the fruits of your labour, while wishing you long life, God's divine protection, peace and guidance to shower society with quality fruitful service on earth. ###
ALLANSO JONATHAN ALLANSO