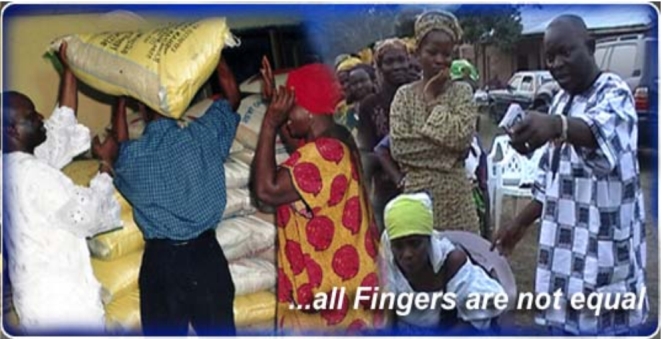 When all hopes were lost, Apostle Ogu set a target for the dedication of the cathedral. People dismissed him as a dreamer and, "an act of lunacy". He opined: "…a target, when set to a vision, pushes the vision into reality. A target, when put to vision, puts you on your feet, moves you at a speed, and moves you against all odds". Of a gospel truth, the resources to actualize the dedication were light years away, but the humble servant of God moved in faith, spoke in faith as God moves with people who move. Ogu proved that no vision can come through except through the mechanism, power, and principles of faith. To the glory of God, the cathedral was dedicated in May 2006, amidst pomp and pagantry, eighteen years of ALEM coming into existence. ALEM rested a little while before embarking upon the twin-three storey building on both sides of the cathedral.
As a custodian of kingdom hidden mysteries, Apostle Ogu ruffled some feathers in Rivers State when, under the anointing of the Holy Spirit, declared prophetically on 31st December 2006 Passover Night that, Rt. Hon. Chibuike Amaechi, the then Speaker of Rivers House of Assembly, earlier denied PDP ticket by President Obasanjo and his PDP cohorts, is the next governor! He asked the worshippers to pray for Chibuike & Judith Amaechi so that when the prophecy comes to pass, they would be called kingmakers. Newspaper houses feasted on this prophecy and made it front page news when Sir Celestine Omehia was eventually elected and sworn in as the governor. Many castigated Apostle Ogu and dismissed him as a "false prophet and a prophet of doom". He was unperturbed and remained resolute and focused. And the table turned on 25th October, 2007 when the Supreme Court sacked Governor Omehia and ordered that Rt. Hon. Chibuike Amaechi be sworn in immediately as the governor, proving Apostle Ogu's prophecy absolutely correct.Author and televangelist, Apostle Ogu accurately monitors national and global events through prophecies and saying the mind of God in national and political issues.
Evangelism and Testimonies of the Icon of Hope: Apostle Ogu's greatest weapon against his detractors is his reputation as a man of perpendicular integrity, unyielding competence, transparency, and uncommon boldness-cum-fearlessness. As his name is 'Egwuatu', which literally mean Fearless, so he is. He was configured and wired naturally by God to fear nothing! Till date, he carries himself with much moral and spiritual authority and éclat. Pastor Eugene Ogu invented the motto: "Except We Care, The People Perish", and it was on this platform of caring for people, that the Arm of Hope World Outreach, a non-governmental organization was founded. Through a nexus of charitable works, he extends a caring and compassionate arm of hope to the needy, less privileged and the hopeless. Today, hundreds of widows enjoy free Medicare with their children and scholarship for indigent students up to the University cadre. Through Arm of Hope World Outreach, succor has come the way of displaced victims of the incessant religious crises in the northern part of Nigeria.
Through Arm of Hope World Outreach, Apostle Ogu has given scholarships to over 350 students at different levels of education. Arm of Hope commissioned gigantic water projects to the following communities in: Rumuomoi, Rumuorosi, Rumuola/Rumuankra, Rumuokwuta and Rumuporlu, all in Obio-Akpor LGA of Rivers State. Similarly, about 7 communities (Afoudo, Umuosinta Amuzi, Umuikpelene, Okwunazigwe, Umuchoko, Mgboma Alike and Umuchieze) in Obowo LGA of Imo State also benefited from the large heart of Apostle Ogu through the construction of water projects for the communities. The good people of Dogo Nahauwa, a rural community of about an hour drive from Jos, Plateau State, will never forget Apostle Ogu in a hurry. AOHWO is building a primary/secondary school in the community in memory of about 378 innocent victims of midnight attacks/massacre by Islamic herdsmen and terrorists. 3 water projects were earlier given by AOHWO and the plan to build a heath centre for the community is in the offing. AOHWO was in Maiduguri in Borno State in 1986 where about 54 churches were set ablaze and 58 Christians burnt alive and the homes/businesses of over 3,000 persons completely destroyed. AOHWO identified the displaced persons numbering over 4000, gave the relief materials like food stuffs, clothing, paid house rents for them and gave each of them the sum of N5,000 to start life afresh. In all over N5m was spent to offer temporary relief to them. AOHWO also visited the victims of Jigawa mayhem where 16 churches were burnt. The President/Founder gave the victim's families, CAN and Christian leaders' huge amount of money to rebuild the burnt churches and start life afresh. In February 2006, the bell of wanton destruction and killings chimed in Kano. AOHWO generated relief materials and hundreds of thousands of naira and went to Kano to give an outstretched arm of hope to the victims, whose houses and entire belongings were burnt down completely.
AOHWO gave the much needed succor to the victims of February 18, 2006 mayhem in Maiduguri, Borno State. The barbaric and violent acts of the dreaded Muslim fundamentalists claimed the lives of Mrs. Hanatu's five children and two visitors, all of whom were burnt to ashes. Mr. Vendi Vendi's motor spare parts shop was completely burnt, along with all his properties. For Mr. Obodo, an indigene of Enugu State and resident in Maiduguri, his wife and 3 children were roasted. Same is Mr. Jonah Effiong of Cross Rivers State, whose wife and three children were burnt alive. Mrs. Felicia of Imo State origin lost all she had: her poultry farm, tailoring shop, place of residence and her life's properties, were burnt by fire ignited by the Islamic jihadist. Apostle Ogu quickly intervened, counseled them, got habitable accommodation, and gave cash to the business merchant amongst them to re-start business. He took those of them who lost all their wives and children to his personal house in Port-Harcourt where they were warmly hosted and counseling sessions organized for them to pick up their courage and face life and its challenges again, despite the temporal losses. At the end, they left PH with relief materials and hope. The touching case of Mrs. Helen Ani, mother of nine children was outstanding. She lost her husband and her only two sons in Jos massacre. The founder and president of AOHWO gave her a sum of N100, 000 to start a business and awarded scholarship to her remaining 7 children to the university level. Also Mrs. Agatha who lost her husband in the mayhem received a handsome cash gift and scholarship given to her 2 children up to the university level.
Apostle Ogu is a recipient of many awards, both locally and internationally. He was honoured this year 2012 by the new executive council of PFN and CPFN. Just recently, April 10th, 2012 to be precise, Rivers State Ministry of Social Welfare & Rehabilitation presented an Award for Service to Disables & Less Privileged to just two people, namely; Apostle Eugene Ogu and Dame Judith Amaechi, wife of the Executive Governor of Rivers State. Driven and propelled by the supersonic power of the Holy Spirit, Eugene does the work of God, while it is still day, under full apostolic ministry. He is patron and chairman of over two dozen Christian organizations both in Nigeria and beyond. Mrs. Felicia Ndupu, a poor widow from Ndoni in Rivers State and a dealer on second hand clothes was arrested by her business partner for default in payment of goods supplied her. This delay in payment was as a result of her unprepared visit and subsequent delay in Abuja where she had gone to pursue her late husband's gratuity. She was charged to court the following day after her arrest and remanded in prison custody where she spent 9 months. ARM OF HOPE WORLD OUTREACH got wind of her case and, on 7th of July, 2010, dispatched her legal team led by Bar. (Deaconess) B O Tedeye to Port-Harcourt prisons to effect her immediate release, after making the necessary payments. That same day, Mrs. Ndupu breathed the sweet air of freedom, after 9 months languish in prison. Today, ARM OF HOPE has rehabilitated her and placed her children on scholarship.
Miss Anesthesia Ndum, from Ogoja in Cross River State, had a severe motorcycle accident while on a visit to PH in 1997. Her left leg was seriously injured. Due to mismanagement as a result of poverty, her bone began to decay and she needed five to six surgeries to correct the anomaly. She visited media houses like NTA, RSTV, and The Tide to solicit for assistance. This effort yielded a paltry N2, 500 only. She also went from church to church, pastor to pastor, until fate brought her to Deacon Ule Williams, who introduced Apostle Eugene Ogu/Arm of Hope to her. Apostle Ogu used his personal official car and drove her to a specialist hospital in Owerri for admission. All bills of over N500, 000:00 were paid and her welfare properly taken care of. To crown it all, she was given a scholarship to continue her stalled degree programme at the University of Port-Harcourt.
Mrs. Charity Chikezie, from Etche, Rivers State was operated upon at Braithwaite Memorial Hospital, Port-Harcourt (BMH), having suffered from ectopic pregnancy. She was later discharged after a successful surgery but was financially handicapped to offset the outrageous medical bill. Consequently, she was 'detained' and prevented from going home to the warm embrace of her family. ARM OF HOPE WORLD OUTREACH was hinted about this and they promptly went to the hospital where the medical bills were paid. Mrs. Chikezie was taken home by Arm of Hope officials and rehabilitated. ARM OF HOPE WORLD OUTREACH has undertaken and completed several water projects in seven (7) communities mentioned above in Ikenanzizi, Obowo LGA of Imo State. Each community was presented with a 3KVA Generating set to power the borehole. Mr. Francis Igwe, after a corrective surgery on his right arm sponsored by ARM OF HOPE WORLD OUTREACH, was also awarded a scholarship to the University level. Miss Chika, an abandoned victim of a ghastly motor accident, had her medical bills paid and a wheelchair procured for her following the amputation of her right leg.
Uduak Godwin Frank, charge No PMC 1922c/2009 was released from the prison by AOHWO and taken to her home in Akwa Ibom State personally by AOHWO President and the legal team. ARM OF HOPE WORLD OUTREACH extended her generosity to Ahoada Prisons in Rivers State, where sleeping mats, food items, holy bible and a power generating set were given to the inmates. These gifts were received by the chief warder of the prison. Aisha Mohammed, charge no PMC 426c/2010 and Moses Zanzan, with charge No PMC 426c/2010 were released by AOHWO legal team. Both of them were given automatic scholarship to the University level by AOHWO. AOHWO President/Founder and his team visited Dogo Nahauwa, a rural community 100 kilometers from Jos, capital of Plateau State to offer relief materials to the victims of 378 people massacred in cold blood in one night by Fulani herdsmen/Islamic terrorists. AOHWO President/Founder knelt down at the mass grave and tearfully offered prayers. AOHWO is building a primary/secondary school, which has passed the roofing level in Dodo Nahauwa community, in memory of the 378 innocent victims of midnight massacre. We are planning to build a Health Centre in the community as well. With primary, secondary school and a health centre, members of this community will no longer be walking for hours in the wilderness in search of water, education and health care, exposing themselves to the brutal and violent attack by the Islamic fundamentalists who butcher them at will in the wilderness.
As a result of incessant attacks and killings of women, children and men of Dogo Nahauwa community by Fulani herdsmen in the wilderness, in search of drinking water, AOHWO provided and commissioned 3 water projects to serve the community. AOHWO organized a comprehensive skills acquisition training programme to empower over 500 people in Port Harcourt in the following areas: (a) Driving. (b) Computer Operation. (c) Website Design. (d) Catering. (e) Events Management.(f) Hat/Bead Making.(g) Paint Making. (i) Interior Decoration.The 500 trainees of these various areas of skills acquisition will require a minimum of N50,000 each to start a small/medium scale business.
Mr. Eke Ukaonu, from Enugu State, who had his right leg amputated as a result of diabetic-induced foot ulcer, was held back by the authorities of Enugu State University Teaching Hospital for five months after discharge, due to his inability to foot his medical bills. On April 17, 2010, AOHWO's team arrived ESUTH. Purpose? To put smiles on the faces of the Ukaonus. The team promptly paid all medical bills, procured an artificial leg for Mr. Ukaonu and drove him to his Abakpa Nike residence. It was a joy galore as their faces radiated with happiness and thanks to Almighty God. AOHWO is building a church hall for the Charismatic Renewal Ministry in Amuzi, Obowo LGA of Imo State. As a part of our community development programme, AOHWO built a Town Hall for Umuochieze autonomous community in Obowo LGA.
To Apostle Ogu, his morning has broken, and his golden jubilee celebration marks the dawn of a golden era in his life and work for God. Of a truth, a man who wakes up and finds himself famous and successful hasn't been asleep. Eugene's only problem with many Nigerians has been his stubborn diligence for the Jeffersonian maxim: 'Equal right for all, special privileges for none, and his uncompromising stand to call a spade by no other name, no matter whose ox is gored. He is an apostle of social justice and truth. He is a man of great organizational ability and superb leadership qualities. He met PFN Rivers State in a coma, and with a Midas touch, he revived and transformed PFN, as the state Vice-chairman from 1995-1999 and became the State Chairman of PFN for eight years, unopposed. Today, PFN Rivers State is a success story, having laid the solid foundation for unity of purpose and cohesion within the body of Christ in Rivers State.
Presently, he is the National Security Adviser of Pentecostal Fellowship of Nigeria, having paid his dues in the Christian and Pentecostal world in Nigeria and beyond.
A man of enviable and impeccable spiritual credentials, a committed reformer, a visionary church leader, Eugene Ogu, undoubtedly, left his indelible footprints on the sand of time, even at 50! He has written his name in gold in the hearts of millions of people in Nigeria and beyond. A no-nonsense preacher, Apostle Ogu enjoys an unprecedented respect and applause from Christians and non-Christians alike, as his name rings a bell in every ear, both young and old.
ALEM Embassy Celebrates
Join us on our Triple celebration. 50th Birthday Celebration of our General Overseer, Apostle Eugene O. Ogu, his 27 years of active service in Ministry and ALEM's 24th anniversary. July is fully loaded. The week long activity kicks off on Sunday 15th July, 2012 with ministration by several anointed men of God, among whom are Apostle Johnson Suleiman, (Nigeria) Bishop Donal Evans, (USA), Prophet Gilbert O. (Ghana), and Bishop Daniels Benny from the Republic of South Africa.
Outside View of Headquarters of Abundant Life Evangel Mission and Arm of Hope World Outreach
The Chronicles and acts/deeds of an icon of evangelization and hope of the downtrodden, Apostle Eugene Ogu can not be exhausted in one piece. Not done, read next piece for detailed chronicles of the acts of this great caregiver, embodiment of political evangelism, icon of hope to the downtrodden and above all God's servant and prophetic voice to this generation.
Dr. Lewis Akpogena
08055059656
E-mail: akpogena@yahoo.com