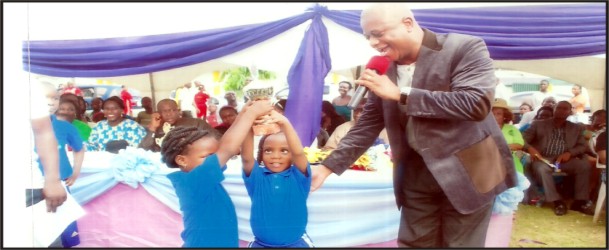 The MacDonald Group of Schools on Saturday 16th of March conducted the 14th edition of its annual inter-house sports athletics competition.
The inter-house featured varieties of sporting activities raging from tracks to field events, notably 100metres, 200 metres, 4×100 metres relay race in all categories including boys and girls in secondary school, leaving only the senior boys to participate in the high jump event.
Some of the events the primary school category featured in 100 metres, 4x100metres relay race in all categories while the nursery school pupils participated   in 50metres, dash race, caprisone and fill in the basket.
Virginia house (green) came 3rd position with 138 points, Leticia House (Yellow) came 2nd position with 180 points, while Macdonald House (Blue) came 1st position with 245 points.
In the primary school result, 3rd position went to Virgina House with 38 points, 2nd place position goes to Macdonald House with 42 points, while the first position was claimed by Leticia House with 48 points.
In the nursery school category, Virginia House came 3rd with 31 points, 2nd position was claimed by Leticia House with 40 points while the 1st position went to Macdonald House with 43 points.
Dignitaries that graced the occasion were: the Hon. Commissioner For Sports, Hon. Fred Igwe, who was represented by Loveday Elenwa, Dr. Peter Emejuru, represented Honourable Allwell Onyesoh, the chairman of Senior Secondary Schools Board, Rivers State.
Other dignitaries include Dr. Umeh Obi, Chief Godson Iregbu, Engr. Olawoye Anselem, Engr. Opekere Ibanichuka  and PTA chairman, HRH, Chief Emmanuel Alalibo who also served as chairman for the occasion.
The elated dignitaries charged the students and pupils to be law abiding and demonstrate high level of commitment in sports, adding that those professionals they see to today were like them.
Highlight of the competition was the presentation of trophies to the winning Houses. ###