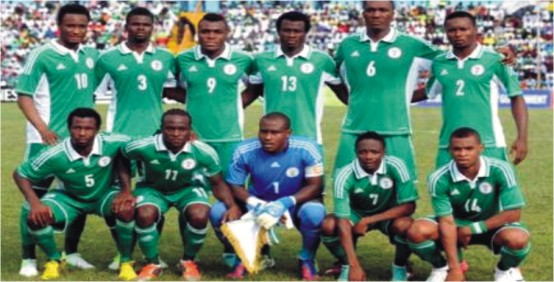 Super Eagles handler Stephen Okechukwu Keshi will be unveiling his foot soldiers to tackle Scotland on Wednesday in a bid to know their level of fitness in preparation of the FIFA 2014 Brazil world cup.
Keshi will be also playing two other friendly matches before submitting his final 23 man list to FIFA on the 2nd of June.
Keshi jet out of Nigeria with four home based Chan Eagles for this assignment, on a good day, the four home based might be part of the world cup at Brazil if they could impress Keshi on this friendlies.
The Super eagles will be facing the likes of Argentina, Bosnia, Iran one of the world soccer power, looking at the Super Eagles regular line up, there is no special player that can turn the record when it matters as Messi and his colleagues could for Argentina.
Friendlies are sometimes very tricky to selecting some players into the final 23man final list for the world cup.
A player may performed excellently at friendly matches but when included in the world cup list, in most cases turned out to be a flop.
Keshi should be very careful in making his final 23 man list less Nigerians will call for his head, should his lads flop at the world cup.
Keshi needs a formidable midfield, prostrate attack and a tight unmovable defence to stand the soccer fire of Argentina when the Eagles confront that country in the 2014 FIFA Brazil world cup for now, the Eagles midfield could be described as an average midfield that needed to be solidified, moreso, the attack also needed to be sharpened as missing goal scoring opportunities may not be in the best interest of the Eagles at the World Cup, a game is played once and determined by goals. ###