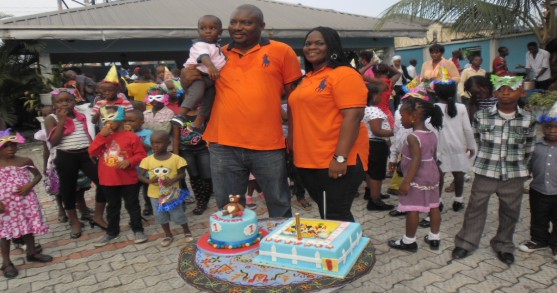 It was indeed a celebration galore at Omas Cottage, Abacha Rd, Port Harcourt, Rivers State, where friends and well wishers from all walks of life, gathered to celebrate with Mr. and Mrs. Steve Agidee, as their son, Master Tamara Baracami Steve Agidee marks one year on earth.
Words may not paint the true picture of the delight that the children had at the event, as they were well feed, had enough to drink and a well packaged gift bag for their take away.
In a brief chat with The Newswriter at the end of the event, Mrs. Francesca Steve Agidee mother of the celebrant expressed her heartfelt joy in celebrating her son's one year anniversary.
Francesca thanked all and sundry that came to celebrate with them. She prayed God to guide them back to their various destinations and also use the medium of their celebration as a point of contact to reach out to these men and women out there, that are looking up to God  for a day like theirs to celebrate in their lives through the gift of a child. ###
By Blaise Elumezie