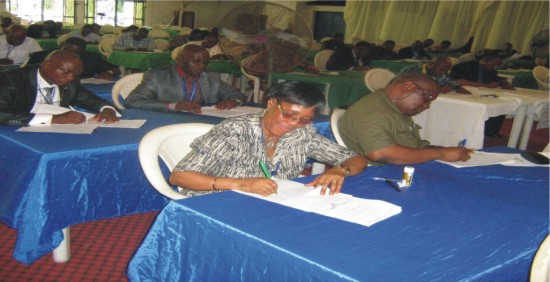 As the new policy on appointment of Permanent Secretaries take a foothold in the Rivers State Civil Service, over 300 Substantive Directors have sat for qualifying examinations aimed at determining the best qualified candidates.  The number would have been higher than 500 but for the guidelines stipulating that only substantive Directors who have served for five years and above are qualified to sit for the examination.
The examinations which was held last Friday at the Main Bowl of the Alfred Diete-Spiff Civic Centre, Port Harcourt, was conducted by officials of the Administrative Staff College of Nigeria (ASCON) led by its South-South Zonal Coordinator, Elder Mike Whetode. In a brief remark before the commencement of the examinations, the Head of Service, Barrister Samuel LongJohn, who personally took part in supervising the proceedings, said the move was to ensure credibility and transparency in the appointment of Permanent Secretaries as well as guarantee competence and enhanced service delivery in the State Public Service.
Barr. LongJohn reminded them of the criteria for selection of candidates warning that anyone who did not fall within the laid down guidelines would be disqualified even if the person made the best result. The examination was the second in the series since the State Government adopted a Federal Government Policy of conducting qualifying exams for appointment of Permanent Secretaries.
Some Directors who spoke to newsmen shortly after the exams commended the Head of Service for the success of  the examination. They expressed the hope that they would be successful. There are presently 41 Permanent Secretaries in the State Civil Service although some would be retiring from the Service before the end of the year to create room for new appointees.