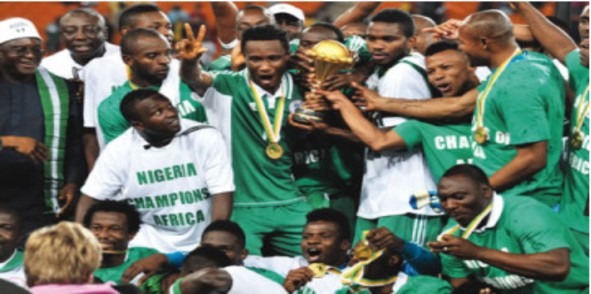 President Goodluck Jonathan has heartily congratulated the Golden Eaglets of Nigeria on their qualification for the finals of the ongoing FIFA under-17 World Soccer Championship in the United Arab Emirates
The Nigerian team convincingly defeated the Swedish national team by 3-0 in a thrilling Semi-Final game played on Tuesday evening.
A statement by Reuben Abati, the Special Adviser to the President on Media and Publicity, said, "The President joins other very proud and happy Nigerians within and outside the country in applauding the Eaglets" for the feat.
The statement further said, "As the Eaglets prepare for the final march against the Mexican team, President Jonathan urges them not to be over-confident or take victory for granted, but to stay focused, train well and deploy their full arsenal of strength, determination and artistry once again to ensure that they overcome the Mexicans once again and return home with the Under-17 World Cup.
"The President assures the Eaglets and their handlers of the continued prayers, best wishes and fullest support of the Federal Government and all Nigerians as they strive to achieve ultimate victory in the competition.
"He looks forward to receiving them at the Presidential Villa when they triumphantly return to Nigeria."