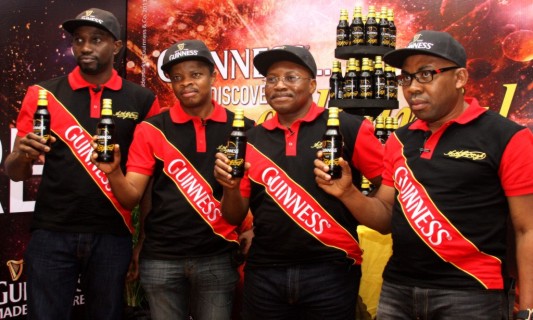 Guinness Nigerian Plc, has re-launched its iconic brand Guinness Foreign Extra Stout in a well arranged new label as part of its commitment to show new innovation with the intention to satisfy customers.
The New Stylish Label was unveil at the Eko Hotel and suites over the weekend. The Chief Executive of Guinness Nigerian Plc, Mr. Seni Adetu said the redesigning a New Label for Guinness Foreign Extra Stout is in fulfillment of the Company's desire to continuously deliver quality service to it numerous consumers.
Mr. Adetu stated that, over the years, Guinness has shown greater skills and Styles with dynamism and new innovation that move the company forward. He stated that the new work of the Guinness Foreign Extra Stout will be rolled out in different locations in the country soon, saying the new Guinness bottle label is said to reflect the adventurous character of the drink.
Adetu said "Guinness Nigeria, we are widely known for our consistency in delivering great brands with grand-breaking innovations and unique experiences to our consumers. Guinness Foreign Extra Stout is definitely a brand that has redefined the experience in our market from time past with dynamic innovations leading to this moment. The concert has been a wonderful experience with the array of talents parade to night and we believe it is going to be the beginning of a new dawn in terms of satisfaction for our consumers".
Explaining further Mr. Adetu maintained that "Guinness Foreign Extra Stout appearance has been changed as part of our value of continuous improvement to depict more style and more substance with class quality. Also speaking Mr. Austin Ufomba, marketing and innovation Director, Guinness Nigeria Plc, relished the prospect of the new label endearing the brand to more consumers. "The new design reveals a new level of connection and resonance with the brand for both new and existing consumers. The dark bottle reflects the quality of its contents made from the finest of ingredients. The beautiful metallic gold foil crowning the bottle simply makes it a drink for every gold moment" Ufomba said.
Highlight of the event was the performance of Nigerian best Musical Artists that thrills the audience as this was regarded as the biggest concert of the year, artistes like Flavour, Kcee and P-Square amongst others, performed to the satisfaction of the people. ###
Pius Dukor