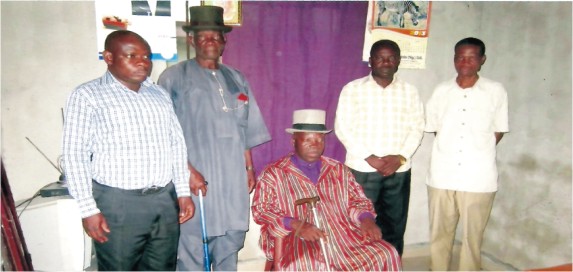 The Amanyanabo of Bakana Community in the Degema local government area of Rivers State HRH Chief Omieibimaba Orubuiyi Odum VIII has alleged that there are plans to attack him by some unscrupulous elements from his Community.
The monarch who made this known during an exclusive interview with our correspondent in his palace at Bakana on Monday, declared that those who want him dead would not succeed because God Almighty is with him.
The king further alleged that he has been receiving anonymous phone calls from unknown persons, issuing all kinds of threats.
The royal father recalled that in 2002 shortly after a competent law court of jurisdiction declared him as the Amanyanabo being the incumbent on the prestigious Odum kingship stool, unknown persons made an attempt on his life, but God saved him.
The Odum VIII called on the people of his domain to always focus on the truth, expressing optimism that only the truth shall set the Bakana community free.
The king is not happy with what he calls some lawless individuals from the Willbraide House, who want to cause instability in the community.
"Since they loss in the law court, they want to lose the community, which we plead nature will not allow," the Bakana monarch said adding that the court has ruled in his favour, recalling that the Bakana chieftaincy tussle ended since 2002, 'but my opponents went to Appeal Court thrice and lost out."
The Odum VIII advised his opponents to stop parading themselves as chiefs of Bakana, since they have not been formally installed as chiefs of Kalabari Kingdom.
He, however described the activities of the opponents as politically motivated, saying that they do not have the community at heart.
The Amanyanabo condemned some lawless youths of illegally selling the land that belong to the community, and advised that they should desist from such heinous act.
King Odum has sent a passionate appeal to Governor Chibuike Rotimi Amaechi to recognize him as the Amanyanabo of Bakana, pointing that "the court has ruled in his favour".
He maintained that his recognition would usher in the needed peace in the community, "Our amiable Governor should please intervene to avoid further crisis in the community. What we need in Bakana is peace and orderliness. I am pleading with the Governor to recognize the already recognized kingship stool by recognizing me as the incumbent on the Odum kingship stool," Odum VIII pleaded.
He further pleaded with the Ministry of Justice not to play politics with the judgment, adding that they should not give attention to his opponents who have lost the case in court.
While advising the youths of the community to always have Bakana at heart, he congratulated the Governor for the provision of electricity in the community. He said that with the provision of power supply, Bakana will begin to witness domestic economic transformation.
The Amanyanabo called on his critics to sink their differences and join hands with him to develop the Bakana Community. "I am the Amanyanbo of Bakana and I do not have any grudge against anybody. I am calling on everybody to come, let us build Bakana together, because we have no other place other place to go," Odum VIII concluded. ###