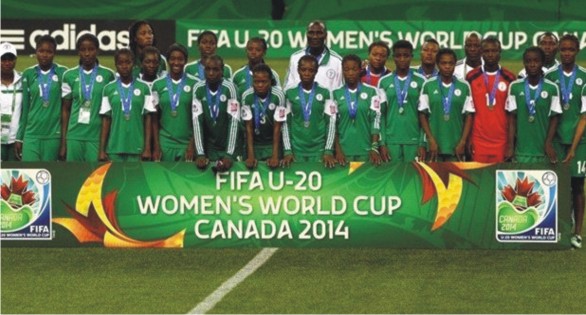 High flying falconets crumbled to the superior technical powers of the Germanys U-20 female team.
The power play of the Falconets was checked by the FIFA U-20 female world cup finals Germanys when unlucky falconets could not utilize their chances when they came their way.
On a day the African continent count most to make history, football is a game of chance hence the Germany ladies made use of the chances that came their way to send the Nigerian ladies packing in the finals of this year's U-20 FIFA women world cup.
The falconets loss to the Germanys was purely on technical ground. Coach of the side too has it blame, as he has too much trust and confidence in particular players, particularly, his super strikers, not substituting a player that is tired is one factor, thinking they could finish on record time as usual, no two match are the same, the moment a coach would want to access or prosecute a pattern that favours him against another game, he might be disappointed. That is also one of the African coach mentalities, particularly Nigerian coaches.
We can play into the finals but would run out of idea when it matters most.
Coach of Falconets run out of ideas when his technical input is most needed to lift the trophy, though he has come out to revealed that his girls were tactically indiscipline at goal on a day that he wanted victory desperately.
FIFA women U-20 golden ball winner Oshoala too could not save the Falconets, that is because, she was too much in a hurry with anxiety to get the job done before the game starts. The girls were physically out run by their Germanys counterpart as after the 90 minutes regulation time the Falconets were fatigue and exhausted with ideas and physical strength to continue the game. ###